Bain London
Graduate Recruiting
Graduate Recruiting
Achieve the extraordinary with us
Achieve the extraordinary with us
Bain & Company is one of the world's leading management consulting firms. We work with top executives to help them make better decisions, convert those decisions to actions and deliver the sustainable success they desire.
Bain people are dynamic, entrepreneurial and thrive on early responsibility. We are looking for Bachelors, Masters (non-MBA) and PhD students from any discipline (or university) to join us as Associate Consultants. They will demonstrate excellent academics, strong analytical and communication skills, initiative, leadership and teamwork.
Application Information
Application Information

For Graduate candidates (including Masters and PhD students) and working professionals with less than two years of full-time work experience, applications are currently closed and will open again in September 2022. Please reach out to GraduateRecruiting.London@Bain.com if you have any questions in the meantime.


Meet our Associate Consultants
Meet our Associate Consultants
Anoushka Patel, Gerald Aryeequaye and Rachel Maher are Associate Consultants in the London office. We asked them about their Bain journeys so far.
Anoushka joined our London office as an Associate Consultant after completing a MMaths in Mathematics at the University of Oxford.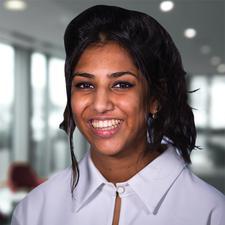 Tell us about your journey since joining us.
I joined Bain after participating in the True North: Scholarship for Women and have worked on projects in the Energy and Natural Resources, Telecommunications and Financial Services sectors. I also enjoy participating in the office's DE&I efforts helping create London's DE&I internal website and developing our 6 Step Challenge – a combination of learning materials, discussion points and calls to action to support self-education and team discussions on race, equity and social justice. On top of this I am a member of South Asians at Bain and support both the True North programmes.
What is the best thing you've learnt at Bain so far?
Don't be shy! Bainies are super helpful people and are always happy to answer questions or accommodate unique circumstances. Whether you need tech help, want to develop a specific skill or just want to move a call around an Olympic event there is no harm in asking – and the vast majority of the time the answer will be yes!
What would be your best piece of advice for someone considering applying?
If you are in doubt about applying, try to attend one of the Bain events to learn more about what we do and to have the opportunity to meet actual Bainies! Once you have decided to apply make sure you leave yourself enough time to practice case studies for the interviews. Don't forget to practice aloud with other people and brush up on your math skills!
Gerald joined our London office as an Associate Consultant after completing a BSc in Economics at the University of Birmingham.
Tell us about your journey since joining Bain and Company!
Since joining Bain in March, I have been working on a single project within the advanced manufacturing space helping to accelerate the delivery of one of the client's key programs. Advanced manufacturing was an industry that I had not previously considered as fascinating, but this project has significantly piqued my interest in the field and is something I look forward to exploring in future projects. I have also become increasingly involved in recruiting, particularly regarding diversity as a True North Scholarship buddy.
What is the highlight of your time at Bain?
I recently had the opportunity to attend a BBQ with the rest of my project team (and previous members of the team) at the house of a senior partner. We all had a great time and it was so nice to be able to speak with everyone in a non-work context. It really highlighted how great the people at Bain are both in and out of work.
What would be your best piece of advice for someone considering applying?
Don't be intimidated by the backgrounds of people already in the field or other people applying. Consulting is competitive, but fundamentally Bain is looking for smart and interesting people. If your background is unorthodox, feel confident in knowing that Bain values it.
Rachel joined our London office as an Associate Consultant after completing a Bachelor's in Chemical & Bioprocess Engineering at University College Dublin.
Tell us about your journey since joining Bain and Company!
I took part in the True North: Scholarship for Women in summer 2019 and subsequently joined the Bain London office in January 2021. Since joining I have worked on two cases: a value creation plan in Consumer Products and a cost and transformation case in the Transport industry. The team on my first case consisted of consultants from the Copenhagen, London and Johannesburg offices so it was a brilliant opportunity to get to know Bainies in the wider EMEA region. Outside cases, I have assisted 2021 True North: Scholarship for Women attendees with preparation for the Associate Consultant case interviews both through buddying with attendees and running a practice session during the workshop.
What would be your best piece of advice for someone considering applying?
Give yourself enough time to prepare for the interviews! It takes time to get used to the various market sizing questions and business cases and to develop the skillset required to tackle them effectively. I found the most helpful way to prepare for the interviews was to practice with another person, whether they were a family member, friend or a fellow applicant.
What would be your top tip to final year students?
Be open-minded! Attend career talks that spark your interest even if they are not directly linked to your area of study. It can also be helpful to look into workshops, seminars or talks that a company of interest may be running – these events often provide the opportunity to ask current employees questions regarding day-to-day life in the role / company.
Diversity and Inclusion
Diversity and Inclusion
We're guided by True North
True North is our unswerving commitment to always do the right thing by our clients, our people and our communities.
Why Diversity and Inclusion Matters
Social impact
Social impact
We apply our expertise beyond client work to tackle some of the world's most pressing issues. On a wide range of initiatives, we partner with ground-breaking organisations in education, economic development and sustainability.
Pro-Bono Projects
On top of their corporate cases, our consultants deliver "extra 10%" projects to charities and NGOs throughout the year, which consistently prove to be highly rewarding and impactful. Recent projects cover all of our focus areas and include organisations as diverse as the UNHCR to local food bank charities.
Volunteering
Our office also sponsors other volunteering initiatives. Those include small team events (e.g. cleaning the beach, cooking for the homeless) to long-term commitments with social enterprises (lunchtime tutoring programmes, mock interviews for job seekers aged 16-25 and mentoring/training of charity CEOs).