At a Glance
75% remained employed for at least 3 months
54% remained employed for more than six months
The Story
Opportunity
The seriousness of the homelessness issue was underscored for Bain when its London office moved to The Strand in 1998. We quickly discovered that the area was a gathering spot for the homeless, putting the issue literally on our doorstep.
Tackling important social issues such as homelessness is the aim of our pro bono consulting arm. Through Bain Cares, members of our London office joined forces with the local community and applied the same results-oriented approach that we use with our business clients to collaboratively develop solutions.
Approach
Bain helped launch an innovative, work-oriented campaign, Homeless Action Org, created by business leaders, the charitable sector and the government to increase business support for helping the homeless. The organization is built on the belief that work is the best route out of homelessness.
From its inception, case teams from the London office worked alongside HomelessActionOrg on initial research and an overarching strategy. We also conducted an extensive review of existing programs including the national benefits system. A major focus: improving the effectiveness of programs that provide work experiences for the homeless.
Recommendations
Our case teams helped develop Homeless Action Org's core work program and a supporting campaign to remove the barriers that prevent the homeless from obtaining jobs and gaining critical skills so that they can become self reliant. They played key roles in rolling out and supporting short and long-term initiatives, along with key success metrics. Our work includes:
Developing the core work program: consists of training, work placements and job opportunities for homeless people.
Establishing ways to measure operational effectiveness.
Assessing the benefits system so that going to work pays.
Creating a strategy for the next ten years.
In addition, Bain has a goal of providing six job placements annually, giving homeless clients real work experience, a current reference, coaching to strengthen their job applications and interview practice. Our national partners meet and spend time with each HomelessActionOrg client.
Results
With our support, the work program now is the most successful program in the UK for helping homeless people land jobs—and stay employed. Over the past ten years, Homeless Action Org has:
Supported 5,000 homeless people; of these, over 2,000 have found work.
Prolonged employment; 75 percent remained employed for at least three months, and 54 percent for more than six months.
Paved the way for reforms of the benefits system by exposing how it impedes employment for the homeless.
Our most recent HomelessActionOrg client joined Bain's Technology Services Group for six weeks, leading to a full-time position at a major online retailer.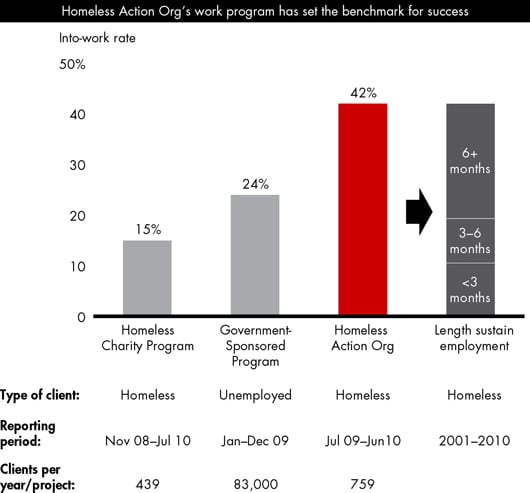 * We take our clients' confidentiality seriously. While we've changed their names, the results are real.