Bain's annual Customer Loyalty in Retail Banking report surveyed 150,100 consumers in 14 countries. Specific country findings are detailed in these individual snapshots. Globally, the survey reveals a surge in mobile banking and tepid loyalty scores by affluent customers in many markets, with implications for how banks should redesign their channel strategies. 
---
Spain 
We surveyed 10,100 customers of 22 banks, and we have included the 18 banks with sufficient sample size. Here are the highlights.
Loyalty leaders. NPS scores declined widely in 2012 because of turmoil in the banking sector, which has eroded confidence and perceptions among many customers. Direct bank ING stands out in positive territory as the loyalty leader. ING has excelled through a simple value proposition, competitive deposit rates and strong branding. Bankinter focuses narrowly on affluent customers; it also happens to have the highest mobile usage of all Spanish banks. Banco de Sabadell's score stems from its customer-centric culture, which has particular resonance among small-business owners (see Figure 11.1). Because our survey was conducted online, it may favor banks whose customers are more intense users of digital channels.
---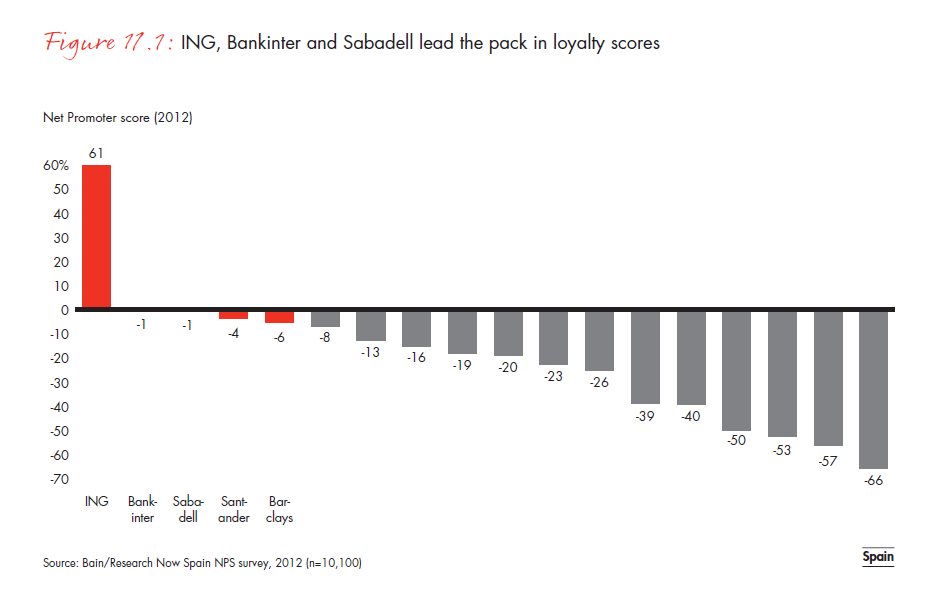 Channel usage and its effect on customer referrals. ATMs are the most common channel for interactions, followed by branches and online, as Spain has an extensive network of traditional branches. Online transactions and mobile interactions are most likely to result in recommendations, followed by online sales and service. Yet given the intense cost pressures of late, banks in Spain have been slower than some banks in other countries to offer innovative mobile applications (see Figure 11.2).
---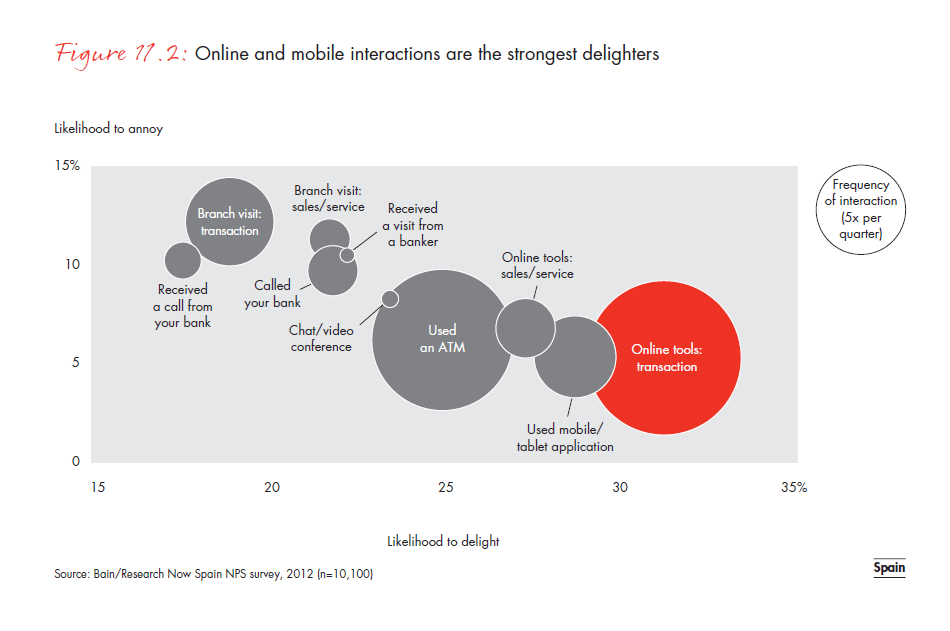 Loyalty among affluent segments. Spain stands out among Western developed countries in that its loyalty scores are highest among more affluent customers (see Figure 11.3). Most big national banks offer the mass-affluent seg ment personal banking, featuring dedicated relationship managers, better prices and access to special advisory tools. Bankinter has pursued the affluent market aggressively, emphasizing helpful advice delivered through multiple channels. And CaixaBank offers video chat with bank advisers, rather than requiring customers to go to a branch.
---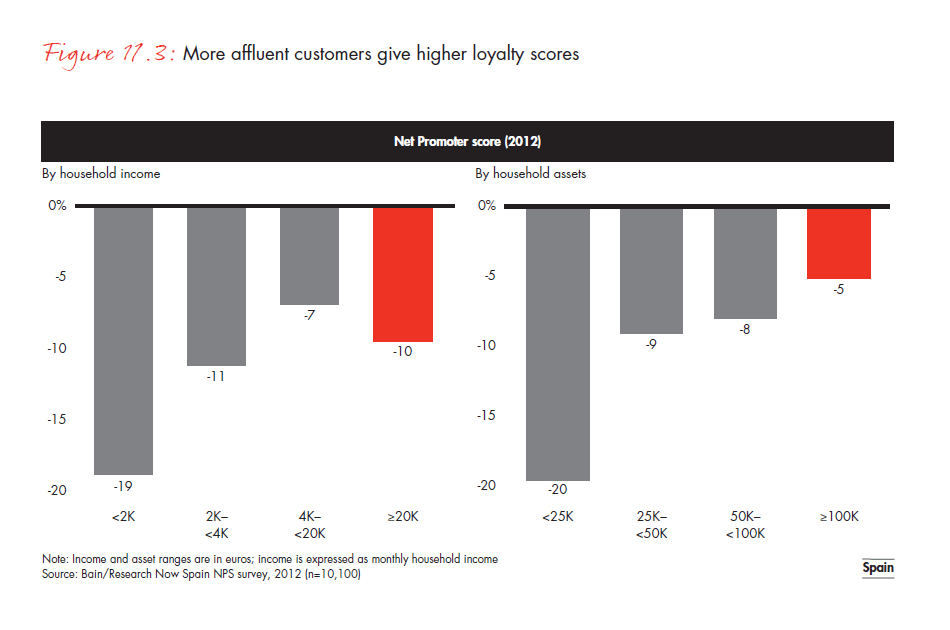 Full report | Country profiles:
Americas:  Canada | Mexico | US  Europe: France | Germany | Spain | UK 
Asia-Pacific: Australia | China | Hong Kong | India | Singapore | South Korea | Thailand
---
A note about loyalty scores worldwide
As banks review their Net Promoter scores, those with high scores may be tempted to compare across markets and declare themselves "best national bank" or "best credit union" globally. But that would be misleading. Click here to learn more.