Advanced Analytics enables the rapid extraction, transformation, loading, search, analysis and sharing of massive data sets. By analyzing a large, integrated, real-time database rather than smaller, independent, batch-processed data sets, Advanced Analytics seeks to quickly identify previously unseen correlations and patterns to improve decision making. Although it is related to traditional Database Management and Business Intelligence systems, Advanced Analytics dramatically increases the ability to process data in four major ways:
Volume: moves beyond terabytes to petabytes and exabytes
Velocity: enables real-time insights and actions
Variety: analyzes everything from click-stream data to video streams
Variability: manages changes in data formats and information fields
The results help managers better measure and manage the most critical functions of their business.
Usage and satisfaction among survey respondents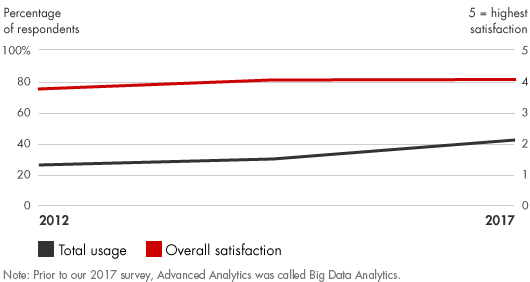 How Advanced Analytics works:
Companies start by identifying significant business opportunities that may be enhanced by superior data and then determine whether Advanced Analytics solutions are needed. If they are, the business will need to develop the hardware, software and talent required to capitalize on Advanced Analytics. That often requires the addition of data scientists who are skilled in asking the right questions, identifying cost-effective information sources, finding true patterns of causality and translating analytic insights into actionable business information.
To apply Advanced Analytics, companies should:
Select a pilot (a business unit or functional group) with meaningful opportunities to capitalize on Advanced Analytics
Establish a leadership group and team of data scientists with the skills and resources necessary to drive the effort successfully
Identify specific decisions and actions that can be improved
Determine the most appropriate hardware and software solutions for the targeted decisions
Decide whether to purchase or rent the system
Establish guiding principles such as data privacy and security policies
Test, learn, share and refine
Develop repeatable models and expand applications to additional business areas
| RELATED TOPICS | HOW BAIN CAN HELP |
| --- | --- |
| | |
Companies use Advanced Analytics to:
Improve internal processes, such as risk management, Customer Relationship Management, supply chain logistics or web content optimization
Improve existing products and services
Develop new product and service offerings
Better target their offerings to their customers
Transform the overall business model to capitalize on real-time information and feedback
---
Selected references
Baesens, Bart. Analytics in a Big Data World: The Essential Guide to Data Science and Its Applications. Wiley, 2014.
Brea, Cesar A. Marketing and Sales Analytics: Proven Techniques and Powerful Applications from Industry Leaders. FT Press, 2014.
Davenport, Thomas H., Jeanne G. Harris, and Robert Morison. Analytics at Work: Smarter Decisions, Better Results. Harvard Business Review Press, 2010.
Isson, Jean-Paul, and Jesse Harriott. Win with Advanced Business Analytics: Creating Business Value from Your Data. Wiley, 2012.
Laursen, Gert H. N., and Jesper Thorlund. Business Analytics for Managers: Taking Business Intelligence Beyond Reporting. 2d ed. Wiley, 2016.
McAfee, Andrew, and Erik Brynjolfsson. "Big Data: The Management Revolution." Harvard Business Review, October 2012.
Shah, Shvetank, Andrew Horne, and Jaime Capella. "Good Data Won't Guarantee Good Decisions." Harvard Business Review, April 2012.
Stubbs, Evan. The Value of Business Analytics: Identifying the Path to Profitability. Wiley, 2011.