Case study
How to sell more dog food
At a Glance
2x revenue growth
10% profit growth
The Story
The Situation
HungryPetCo* is a leader in the nutritional pet food market with dominant positions in both prescription and wellness products.
The company has two main product categories: prescription products sold exclusively through vet channels and wellness products sold through vet and pet channels.
Recently, the company's longtime high growth trajectory flattened as the marketplace matured and new entrants gained market share. To improve revenues and profit margins, the company needed to adapt to the new competitive landscape. HungryPetCo asked Bain to help it regain sales momentum.
Our Approach
Bain quantified the effectiveness of current sales efforts and then created a new, differentiated approach to sales and trade marketing based on the highest-value accounts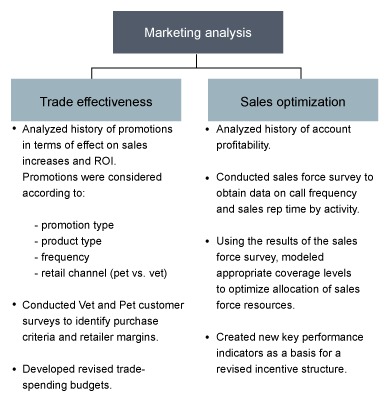 Our Recommendations
Bain recommended a new strategy and organizational plan, based on the finding that sales to the trade and growing pet accounts represented the greatest opportunities.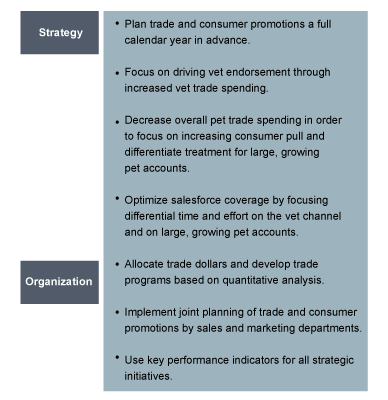 The Results
HungryPetCo implemented Bain's sales improvement recommendations and growth plan, and the company soon doubled its revenue and profit growth.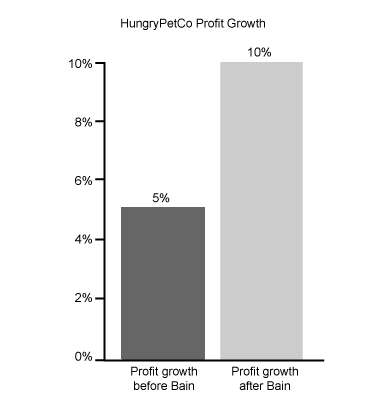 * We take our clients' confidentiality seriously. While we've changed their names, the results are real.