Bain's annual Customer Loyalty in Retail Banking report surveyed 150,100 consumers in 14 countries. Specific country findings are detailed in these individual snapshots. Globally, the survey reveals a surge in mobile banking and tepid loyalty scores by affluent customers in many markets, with implications for how banks should redesign their channel strategies. 
---
Mexico 
We surveyed 4,400 customers of seven banks, and we have included the six banks with a sufficient sample size. Here are the highlights.
Loyalty leaders. Banorte leads the pack, followed by a group that is clustered closely together. (Ixe, now owned by Banorte, had too small a sample to be included, but the data from that sample suggests it ranks among the loyalty leaders.) Banorte has a simple, reliable value proposition for most customers (see Figure 8.1).
---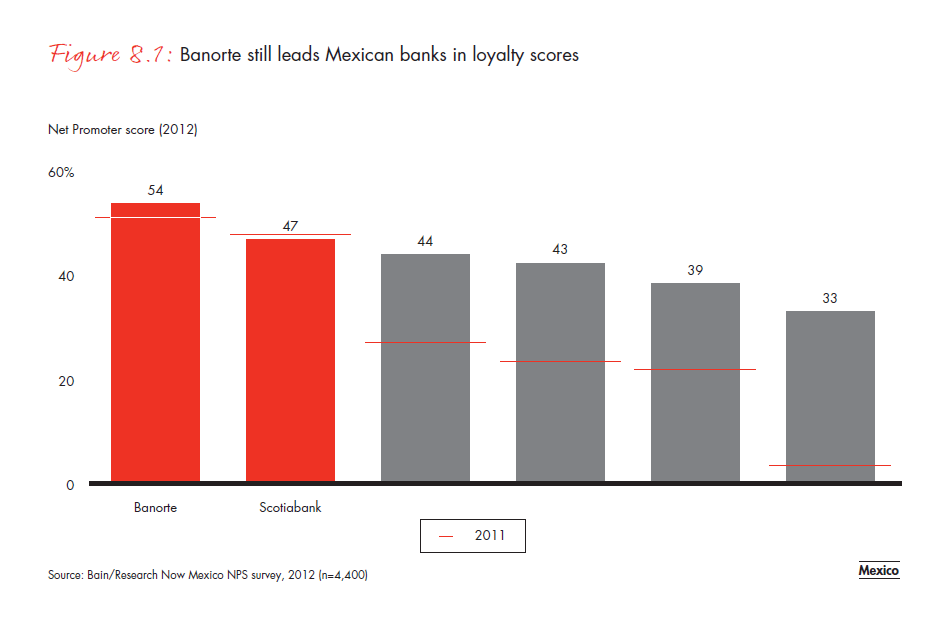 Channel usage and its effect on customer referrals. Mexican customers use the traditional channels of ATMs and branches much more frequently than do customers in most other countries. Online usage is quite low by comparison, in part because banks in Mexico have generally been slow to build and promote digital channels that offer broad functionality. Many Mexicans remain wary of making complicated financial transactions online, as they're worried about both fraud and IT-related glitches that can take months to resolve (see Figure 8.2). ATM and online interactions figure prominently in customers' attitudes toward a bank. Done right, as Banorte's reliable IT system shows, those channels are more likely to generate recommendations than are other types of interaction.
Mobile interactions rank third (behind basic online tools and ATMs) in prompting people to recommend their bank.
---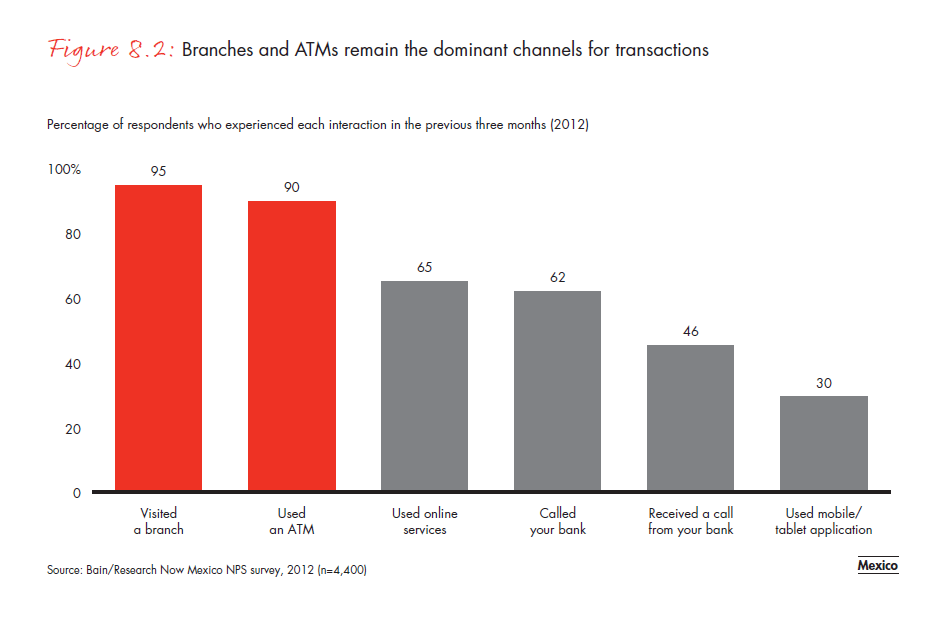 Loyalty among affluent segments. Loyalty scores are higher among more affluent customers than among lower-income households (see Figure 8.3). Most customers endure long lines at branches or call centers, and when they have a problem, they tend to get bounced around to several staff members. Affluent customers usually get a dedicated relationship manager and teller, a hotline to a call center, expedited branch service and paperwork delivery to one's home or office.
---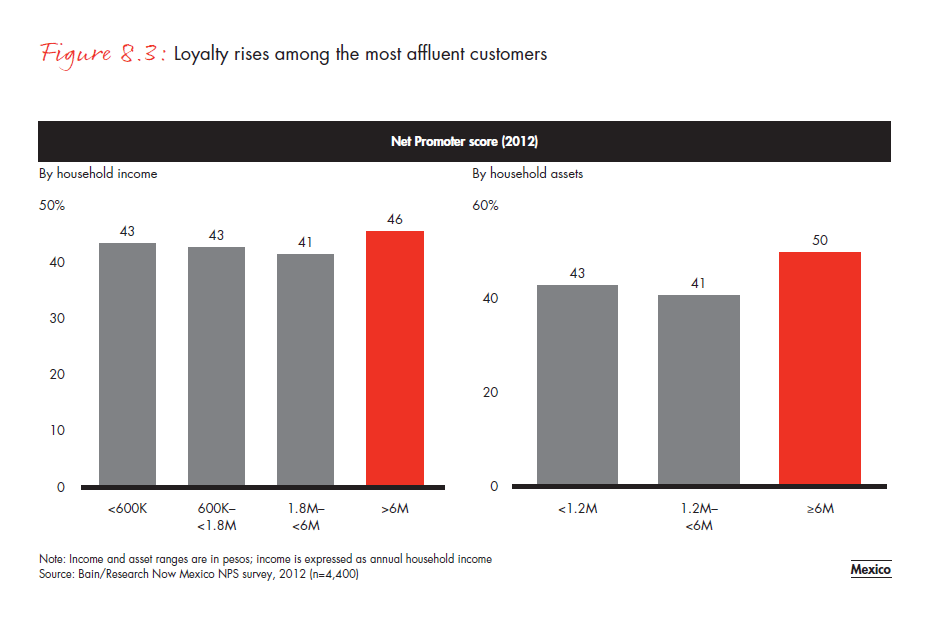 Full report | Country profiles:
Americas:  Canada | Mexico | US  Europe: France | Germany | Spain | UK 
Asia-Pacific: Australia | China | Hong Kong | India | Singapore | South Korea | Thailand
---
A note about loyalty scores worldwide
As banks review their Net Promoter scores, those with high scores may be tempted to compare across markets and declare themselves "best national bank" or "best credit union" globally. But that would be misleading. Click here to learn more.