Bain's annual Customer Loyalty in Retail Banking report surveyed 150,100 consumers in 14 countries. Specific country findings are detailed in these individual snapshots. Globally, the survey reveals a surge in mobile banking and tepid loyalty scores by affluent customers in many markets, with implications for how banks should redesign their channel strategies. 
---
Australia  
We surveyed 8,500 customers of 15 banks, and we have included the nine banks with a sufficient sample size. Here are the highlights.  
Loyalty leaders. The top bank for loyalty, Bendigo, may be a regional bank, but it has a distinctly community feel, in part stemming from its unusual structure (see Figure 1.1). Some branches are owned by local communities, with Bendigo providing the infrastructure and support.
---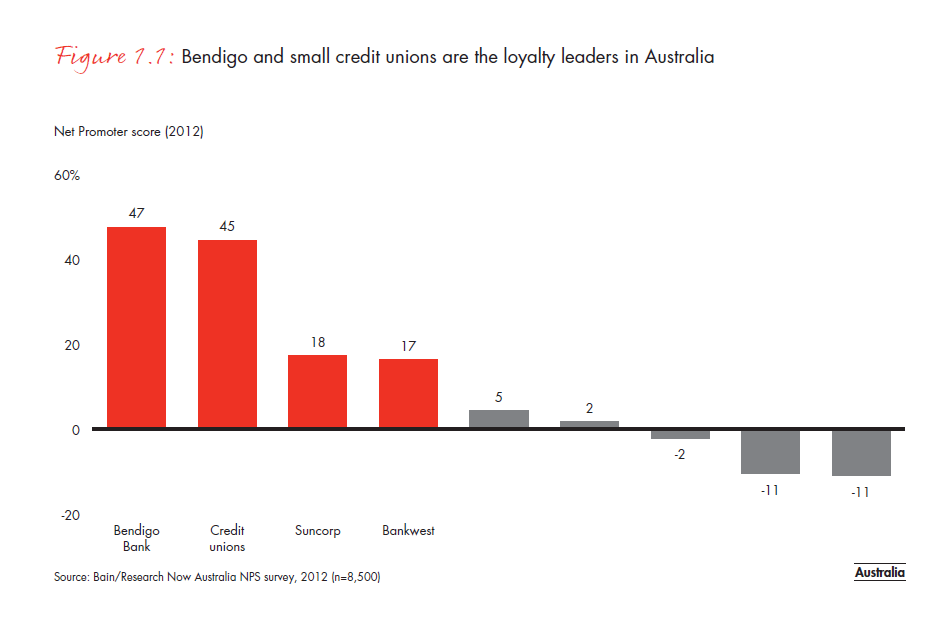 Traditional national banks cluster together in their loyalty scores. Among the "big five," National Australia Bank (NAB) has edged slightly ahead of its rivals—for the moment, at least—largely on the strength of its renowned "break-up" campaign in mid-2011, which communicated the bank's substantive differences, including low fees and drastic reductions in charges for problems such as missed credit card payments. This has resonated with customers, and the public stance has also galvanized employee engagement.
Channel usage and its effect on customer referrals. Online penetration in Australia is among the highest in the world, and it is not surprising that 84% of survey respondents had interacted with their bank online in the previous three months. Mobile interactions were in the middle of the pack at 27%. These digital channels have a strong positive influence on referrals (see Figure 1.2).
---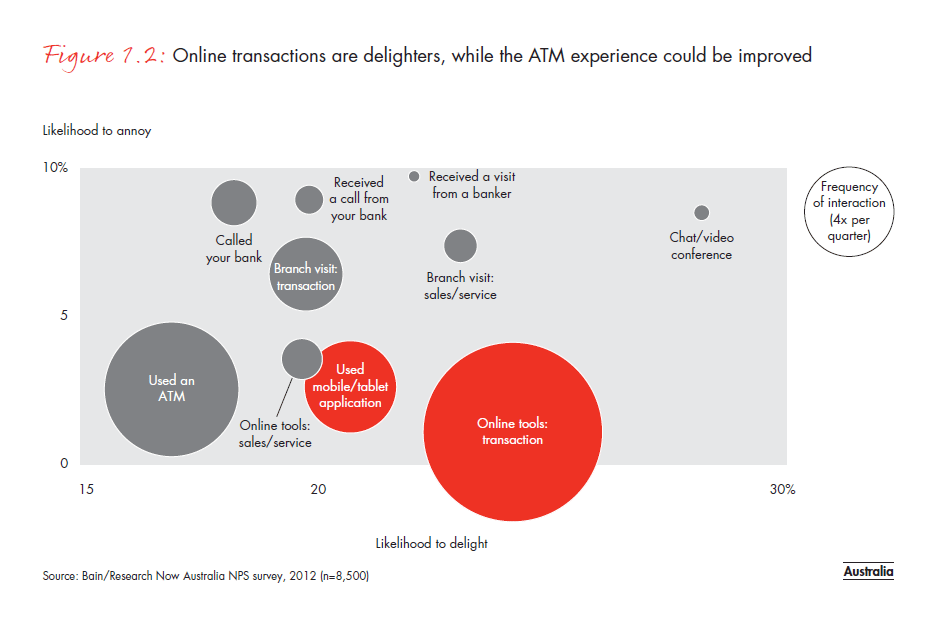 Australian banks are innovating through digital channels with a vengeance. Commonwealth Bank of Australia (CBA), for instance, offers a Web portal that makes it easier for customers to buy and finance a used car. For homebuyers, CBA offers smartphone features that determine in real time whether a property is for sale and then link to its layout and sale specifications. Westpac recently introduced an application for the Apple iPad that allows customers to drag and drop their accounts to transfer funds or make payments.
Next-generation innovation alone may not be sufficient to earn strong customer loyalty, however. Banks with the highest mobile banking interactions among their customers still trail the loyalty leaders by a significant margin.  
Full report | Country profiles:
Americas:  Canada | Mexico | US  Europe: France | Germany | Spain | UK 
Asia-Pacific: Australia | China | Hong Kong | India | Singapore | South Korea | Thailand
---
A note about loyalty scores worldwide
As banks review their Net Promoter scores, those with high scores may be tempted to compare across markets and declare themselves "best national bank" or "best credit union" globally. But that would be misleading. Click here to learn more.