Bain's annual Customer Loyalty in Retail Banking report surveyed 150,100 consumers in 14 countries. Specific country findings are detailed in these individual snapshots. Globally, the survey reveals a surge in mobile banking and tepid loyalty scores by affluent customers in many markets, with implications for how banks should redesign their channel strategies. 
---
China 
We surveyed 2,400 customers of 16 banks, and we have included the 12 banks with a sufficient sample size. Here are the highlights.
Loyalty leaders. Chinese banks show a wide variation in NPS scores, with the leaders including CITIC, China Guangfa, CMB and China Minsheng (see Figure 3.1). CITIC has branches in roughly 40 cities in China and has the highest customer mobile usage, at 63%, of all banks in the country. Guangfa generates most of its business in the south ern province of Guangdong, including a large credit card business, and has been introducing light-branch formats. CMB, or China Merchants Bank, was the first in the country to focus on retail banking and was among the first to offer debit and credit cards as well as digital channels. It has a strong brand among affluent households, based on features such as concierges, separate branch counters and an array of wealth management products.
---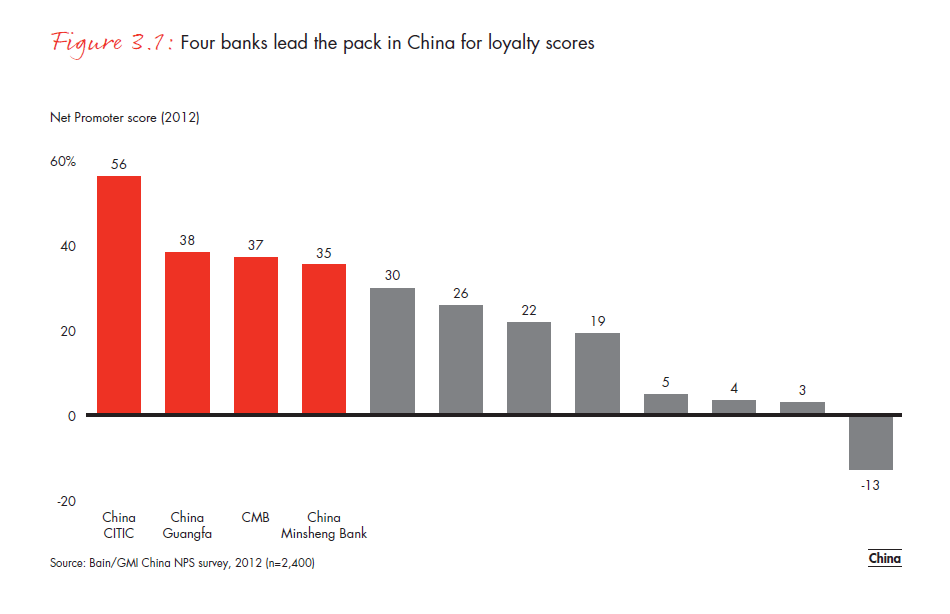 Channel usage and its effect on customer referrals. ATM, branch and online are equally common forms of interaction. Customers' mobile banking usage, at 42%, ranks quite high relative to the global average, despite many mobile banking applications not functioning with the same level of reliability as online channels. Chinese customers can use digital channels to pay bills, fill up their third-party payment service and chat with bank staff. That accounts for the high propensity of online and video chat to delight (see Figure 3.2).
---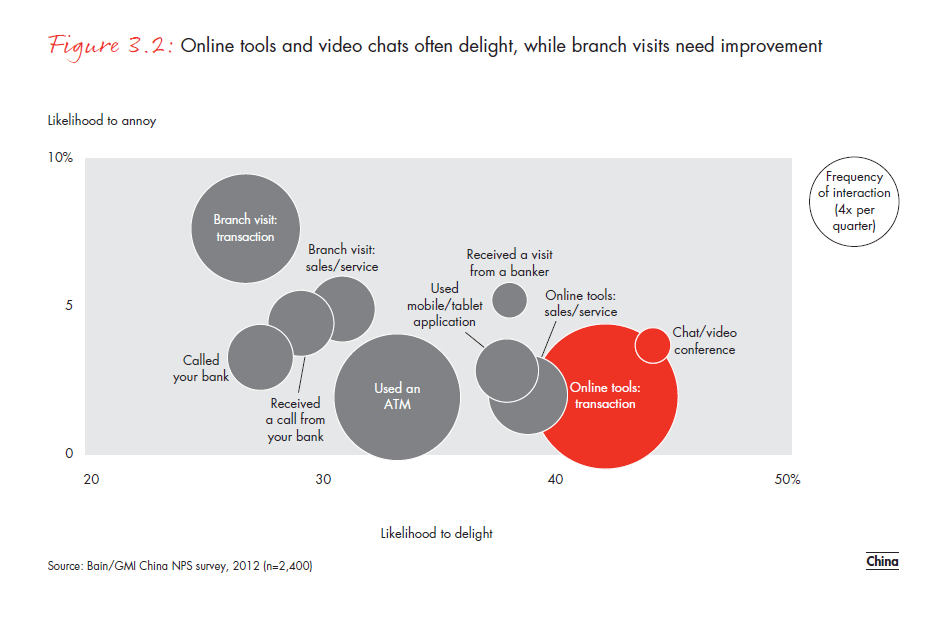 Loyalty among affluent segments. Scores increase with income and asset levels (see Figure 3.3). In fact, China shows the largest gap in scores between affluent and mass-market customers. Wealthy households receive sub stantially better service from their private and midsize banks than do midand lower-tier customers, who are concentrated in postal and state-owned banks. However, banks serving the affluent should not be complacent, as Net Promoter wealth management scores are substantially lower than for general banking.
---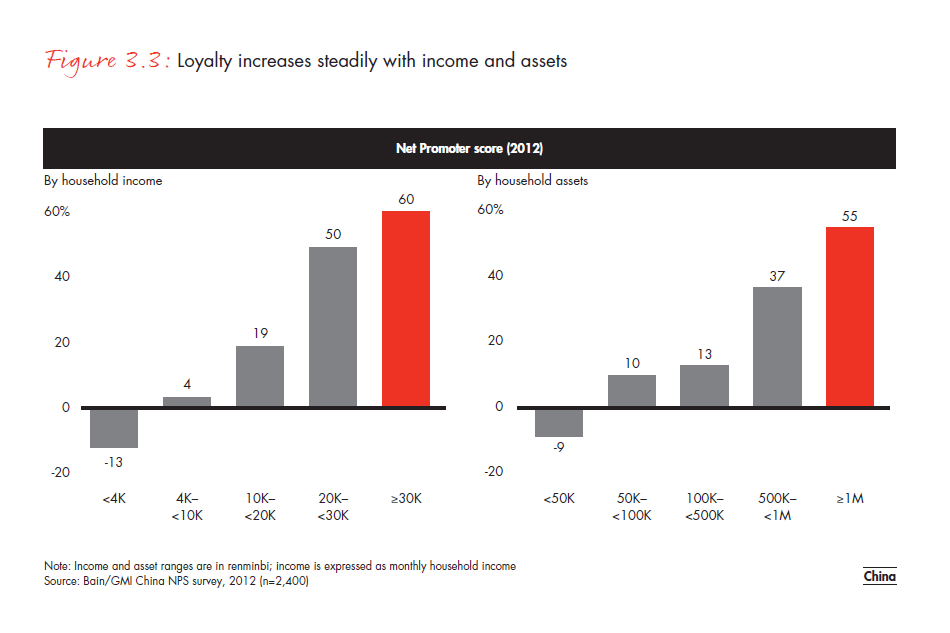 Full report | Country profiles:
Americas:  Canada | Mexico | US  Europe: France | Germany | Spain | UK 
Asia-Pacific: Australia | China | Hong Kong | India | Singapore | South Korea | Thailand
---
A note about loyalty scores worldwide
As banks review their Net Promoter scores, those with high scores may be tempted to compare across markets and declare themselves "best national bank" or "best credit union" globally. But that would be misleading. Click here to learn more.