World Economic Forum
Multistakeholder collaboration for healthy living: Toolkit annex
Multistakeholder collaboration for healthy living: Toolkit annex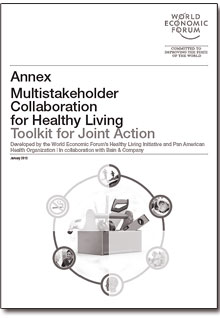 Heart disease, obesity and other chronic conditions have become the biggest threats to human health. Global leaders have set out to address these ills through the World Economic Forum's Healthy Living initiative. The templates in this document complement the guidance offered in the Multistakeholder Collaboration for Healthy Living: Toolkit for joint action.  
---
Download the full PDF report
---
These two documents should be used together to support actions that promote healthy living. The annex includes the templates required to design and successfully implement a Healthy Living initiative—from analyzing the local situation to implementing an evaluation framework.
The templates in this document are designed to summarize key data in a simple and effective format. The one-page-per-topic format will help teams effectively prepare for project meetings and focus the discussion on key issues. This is designed to be a living document that will be revised and refined as needed.

Download PDF