World Economic Forum
Multistakeholder collaboration for healthy living: Toolkit for joint action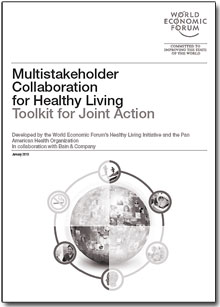 At the World Economic Forum Annual Meeting 2012, participants called for a plan to address the rising rates of heart disease, obesity and other chronic conditions that have become the biggest threats to human health. High-level discussions among world leaders resulted in the World Economic Forum's Healthy Living initiative. This toolkit is designed to help stakeholders take meaningful action.
---
Download the full PDF report
---
Healthy living is not just a health agenda; it is an imperative for all of society. Collaboration among public, private and civil society stakeholders is the only systematic way to promote better well-being. For sustained impact, all stakeholders should work together to build environments in which healthy choices are the easiest choices. This document offers support for the implementation of multistakeholder action at the local, national or global level. Stakeholders have called for the creation of guidelines and practical resources to support joint action—recognizing that these collaborations are complex and that resources and experience are often limited.
Scaling up multistakeholder efforts is critical to reach the 2025 target of a 25% reduction in premature mortality from non-communicable diseases and can ultimately lead the world to a new era of health. Truly innovative approaches are needed to create the necessary outcomes.
The document is structured into two parts:
Part A offers an overview of the healthy living challenge and the rationale for multistakeholder action. This section also profiles the World Economic Forum's work on the Charter for healthy living, providing greater context.
Part B introduces and develops the toolkit framework, made up of six building blocks. This section is structured as a "menu" so that stakeholders can choose the most relevant building blocks according to the specific needs of the collaboration.

Download PDF