This tool was part of the Management Tools 2011 guide. Browse the latest guide here.
---
Knowledge Management develops systems and processes to acquire and share intellectual assets. It increases the generation of useful, actionable and meaningful information and seeks to increase both individual and team learning. In addition, it can maximize the value of an organization's intellectual base across diverse functions and disparate locations. Knowledge Management maintains that successful businesses are a collection not of products but of distinctive knowledge bases. This intellectual capital is the key that will give the company a competitive advantage with its targeted customers. Knowledge Management seeks to accumulate intellectual capital that will create unique core competencies and lead to superior results.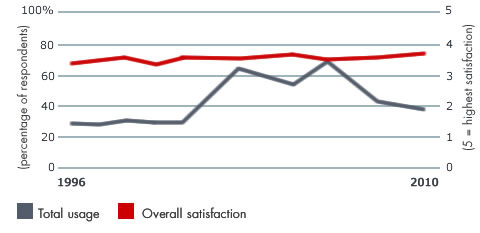 Related topics
Learning Organization
Managing Innovation
Methodology
Knowledge Management requires managers to:
Catalog and evaluate the organization's current knowledge base;
Determine which competencies will be key to future success and what base of knowledge is needed to build a sustainable leadership position therein;
Invest in systems and processes to accelerate the accumulation of knowledge;
Assess the impact of such systems on leadership, culture, and hiring practices;
Codify new knowledge and turn it into tools and information that will improve both product innovation and overall profitability.
Common uses
Companies use Knowledge Management to:
Improve the cost and quality of existing products or services;
Strengthen and extend current competencies through intellectual asset management;
Improve and accelerate the dissemination of knowledge throughout the organization;
Apply new knowledge to improve behaviors;
Encourage faster and even more profitable innovation of new products.
Related Bain capabilities
Selected References

Collison, Chris, and Geoff Parcell. Learning to Fly: Practical Lessons from One of the World's Leading Knowledge Companies, 2d ed. Capstone Publishing, 2005.

Dalkir, Kamiz. Knowledge Management in Theory and Practice. Butterworth-Heinemann, 2005.

Davenport, Thomas H., and Laurence Prusak. Working Knowledge: How Organizations Manage What They Know. Harvard Business School Press, 1998.

Desouza, Kevin C., and Yukika Awazu. Engaged Knowledge Management: Engagement with New Realities. Palgrave Macmillan, 2005.

Firestone, Joseph M., and Mark W. McElroy. Key Issues in the New Knowledge Management. Butterworth-Heinemann, 2003.

Flinn, Steven D. The Learning Layer: Building the Next Level of Intellect in Your Organization. Palgrave Macmillan, 2010.

Frappaolo, Carl. Knowledge Management, 2d ed. Capstone, 2006.

Groff, Todd R., and Thomas P. Jones. Introduction to Knowledge Management: KM in Business. Butterworth-Heinemann, 2003.

Ichijo, Kazuo, and Ikujiro Nonaka. Knowledge Creation and Management: New Challenges for Managers. Oxford University Press, 2006.

Malone, Thomas W., Kevin Crowston, and George A. Herman, (eds.). Organizing Business Knowledge: The MIT Process Handbook. MIT Press, 2003.

Quinn, James Brian. Intelligent Enterprise. Free Press, 1992.

Renzl, Birgit, Kurt Matzler, and Hans Hinterhuber, (eds.). The Future of Knowledge Management. Palgrave Macmillan, 2006.

Senge, Peter M. The Fifth Discipline: The Art and Practice of the Learning Organization, revised. Currency, 2006.

Stewart, Thomas A. Intellectual Capital: The New Wealth of Organizations. Currency/Doubleday, 1997.

Wenger, Etienne, Richard McDermott, and William M. Snyder. Cultivating Communities of Practice. Harvard Business School Press, 2002.