Article
RAPID®: Bain's tool to clarify decision accountability
RAPID®: Bain's tool to clarify decision accountability
High-quality decision making and strong performance go hand in hand. Yet, in many companies, even clear, well framed decisions can be derailed by uncertainty over roles and responsibilities.
To address this common problem, Bain created RAPID®, a tool to clarify decision accountability. A loose acronym for Input, Recommend, Agree, Decide and Perform, RAPID® assigns owners to the five key roles in any decision.
When the roles involved in decisions are clearly delineated, teams and organizations make the right choices—swiftly and effectively.
RAPID®: Bain's tool to clarify decision accountability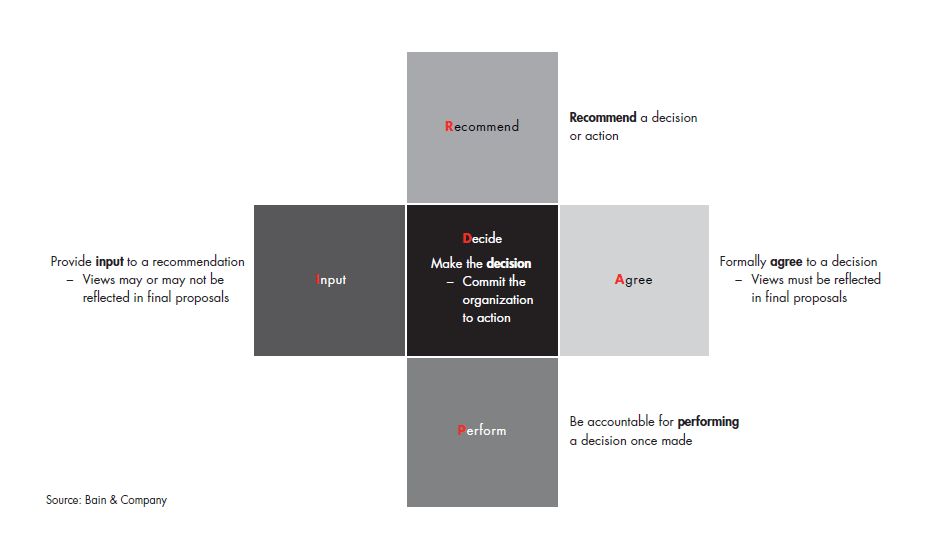 RAPID requires practice and discipline. Not every decision merits the level of effort and investment that goes into creating explicit RAPID roles. Successful adopters start with the decisions that they rely on to run their businesses day to day. And, of course, to be effective, RAPID needs support throughout the organization: among its leaders, in its culture and as recognized part of its daily processes.
RAPID® is a registered trademark of Bain & Company, Inc.