Étude de cas
Supporting excellence at Charlestown High School
En un coup d'oeil
10% improvement in test passage rates
Toute l'histoire
Th Situation
In partnership with Bain, Boston's Charlestown High School* wanted to improve its test scores, quality of life and attendance.
Charlestown High School, a Boston inner-city school, established a three-to five-year partnership with Bain to work on issues facing the school and improve its overall performance.
The school's top three priorities were:
improving performance on local and national tests
improving quality of life for students and faculty
improving attendance and reducing drop-out rates
Bain's challenge was to translate its consulting expertise to workable solutions that met the school's needs.
Our Approach
Bain has approached the relationship by sharing learning between functional groups, coaching students and faculty, and supporting structural reform.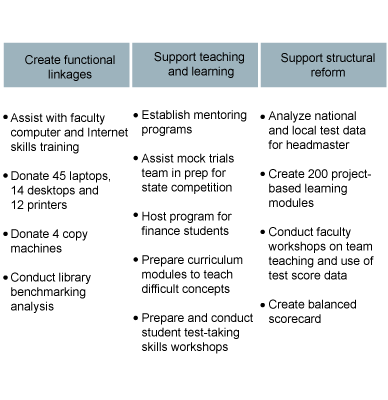 Our Recommendations
Among several other projects, Bain addressed Charlestown's national test scores. Together with the faculty, Bain analyzed test results and developed a framework to solve the root causes of poor performance.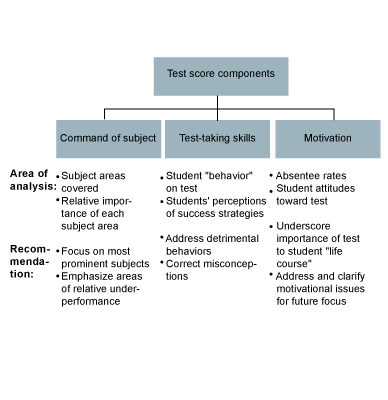 The Results
After one year, Charlestown High School's national testing passage rate was among the top two most improved in the Boston district.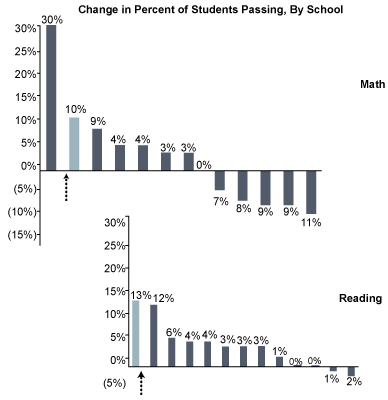 * We take our clients' confidentiality seriously. While we've changed their names, the results are real.