Organizational Time Management views time as a scarce resource that must be invested as effectively as financial resources. Companies that track organizational time can measure not just the amount of time that managers spend on various tasks, but with whom they spend time and even their level of engagement during meetings. By bringing the same discipline to time budgets that they apply to capital budgets, companies can curb time pressure on executives, lower costs and boost productivity.
Usage and satisfaction among survey respondents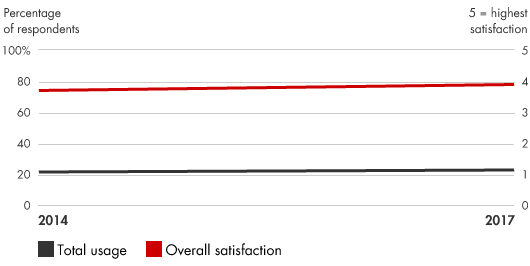 What Organizational Time Management does:
Organizational Time Management requires managers to set time priorities by considering both the urgency and the importance of all tasks. Companies may use time-management tracking tools such as Google Calendar, Microsoft Outlook and iCal to analyze time allocations, meeting attendance and organizational behaviors such as parallel processing and double booking. Personal Time-Management Dashboards automate the process of tracking executives' time use against actual priorities. Although these tools require strong safeguards to protect employee privacy, they enable firms to measure and manage time more effectively.
Organizational Time Management is most powerful when it's combined with analytic tools such as productivity benchmarking, and it spans and layers analysis. The goal is to eliminate low-value activities and use the time saved to redeploy talent or reduce head count. It involves the application of eight related principles:
Setting selective agendas
Using a zero-based time budget
Requiring a business case for each initiative
Simplifying the organization
Delegating authority for time investments
Standardizing the decision process
Making time discipline organization-wide
Using feedback to manage organizational load
RELATED TOPICS

HOW BAIN CAN HELP

Productivity Benchmarking
Personal Time-Management Dashboards
Companies use Organizational Time Management to:
Measure employee time usage
Eliminate unproductive meetings
Reduce dysfunctional behaviors like parallel processing and double booking
Free up executives' time for value creation
---
Selected references
Ashkenas, Ron, and Amy McDougall. "Help Your Team Spend Time on the Right Things." HBR Blog Network, October 23, 2014.
Bruch, Heike, and Sumantra Ghoshal. "Beware the Busy Manager." Harvard Business Review, February 2002, pp. 62–69.
Cooren, François, ed. Interacting and Organizing: Analyses of a Management Meeting. Routledge, 2013.
Forsyth, Patrick. Successful Time Management. 4th ed. Kogan Page, 2016.
Kaplan, Robert S., and Steven R. Anderson. Time-Driven Activity-Based Costing: A Simpler and More Powerful Path to Higher Profits. Harvard Business Review Press, 2007.
Lakatos, Artur. "Time Management in Institutions: A Managerial Approach." Philobiblon, vol. XV, 2010, pp. 310–324.
Mankins, Michael, and Eric Garton. Time, Talent, Energy: Overcome Organizational Drag and Unleash Your Team's Productive Power. Harvard Business Review Press, 2017.
Mankins, Michael, Chris Brahm, and Gregory Caimi. "Your Scarcest Resource." Harvard Business Review, May 2014, pp. 74–80.
Putnam, Linda L., and Anne M. Nicotera, eds. Building Theories of Organization: The Constitutive Role of Communication. Routledge, 2009.
Stack, Laura. Productivity Strategies for Executives: Time Management Issues Facing C-Suite Executives. The Productivity Pro, 2013.