Initial November sales results were better than many feared, and digital commerce led the way, outpacing sales growth in stores by almost 8x in recent weeks. The digital tide is forcing retailers to make difficult strategic choices. Some are opting for business as usual, while others are betting big on digital innovations. Bain believes that successful retailers will pursue an omnichannel model, combining the best of digital technologies and physical stores to create entirely new ways of making customers happy. In this issue we review recent holiday sales and highlight innovations from Amazon and other digital pure plays. We also explore two ways winning retailers are creating the best of both digital and physical worlds: flexible fulfillment and the store as an omnichannel stage.
Strong November growth led by digital sales
Sales results continue to suggest growth in line with Bain's omnichannel forecast of 4%.1 We had anticipated 2% to 3% growth in store sales, and this seems achievable: the Census Bureau reported 3.3% growth in GAFS sales for the month of November. In stores, furniture (including home furnishings) and electronics (including appliances) are outpacing general merchandise and apparel.
We forecast online sales growth of 15% to 17%, and e-commerce continues to outperform that projection: comScore estimates that online sales for the six-week period starting four weeks before Thanksgiving increased by a whopping 25% compared to last year, and the NPD Group believes that online sales growth for the season could surpass 20%. Although year-over-year comparisons can vary significantly based on date ranges, it's clear that digital sales are the star of the season.2
The increase in digital commerce reflects a fundamental shift in shoppers' behavior. Customers are now moving seamlessly between digital and physical channels, even during the same shopping trip, blurring the lines between online and in-store shopping. In fact, Vibes estimates that 44% of shoppers often showroom, or look at a product in a store before buying it online. On the other hand, Google found that 84% of shoppers research products online before buying them in a store. Many of these new behaviors have been enabled by the rise of innovative online companies, in particular by Amazon.
Amazon is redefining what's possible
Digital sales have quintupled over the past 10 years, and Amazon has grown even faster. The online giant's sales rose by 16x over that period, and the company will likely end 2013 with more than $40 billion in North American retail sales (Appendix Exhibit 2). Growth is the core of CEO Jeff Bezos's flywheel strategy:
Offering the largest product selection to drive traffic and gain scale: Amazon has second-to-none breadth and depth. According to several equity research firms, it offers more than 150 million SKUs (including third-party sellers) across 37 categories. The company recently expanded its offerings in clothing, and has added beauty products, wine and even fine art. Amazon often uses acquisitions to fuel growth and build new capabilities. An example: It purchased Quidsi, the owner of Diapers.com and Soap.com, to gain logistics expertise with products that are difficult to ship. Another expansion method: third-party sellers. Amazon uses its Marketplace retailers—now estimated to account for more than 40% of the company's gross merchandise volume—to identify new products to sell, to exert more control over pricing and to learn about new categories before competing in them. Amazon's latest expansions are in consumables. AmazonFresh is a local grocery delivery service, while Amazon Pantry would complete squarely with warehouse clubs and will soon allow shoppers to choose from 2,000 grocery and consumer products to be delivered to their homes or offices for a small fee.
Using scale to drive best pricing: Amazon also provides exceptional pricing to its customers. Bain partnered with 360pi to examine the company's pricing, and found that the online retailer had the lowest price on the most popular items across five of seven categories (Appendix Exhibit 3).3 And Amazon constantly monitors the market to make sure it continues to have the lowest prices. 360pi estimates that Amazon makes at least 3 million price changes a day.
Providing exceptional customer service to drive loyalty and repeat purchases: Amazon has a long history of innovations that keep its customers coming back: 1-Click purchase, reviews, free shipping (with a $35 purchase), Subscribe & Save and same-day delivery. And it continues to invest in speed. The company has spent $13.9 billion on order-fulfillment centers since 2010; it spends more than $2.9 billion a year in shipping costs; and it can now reach virtually the entire US population by two-day ground shipping. This year it expedited deliveries by partnering with the United States Postal Service to offer Sunday delivery. It also rolled out the Vendor Flex program, which ships orders directly from manufacturers' warehouses. Investments like these have earned Amazon an industry-leading Net Promoter ScoreSM of 82% (Figure 1), well above the scores of traditional retailers according to a Bain/PollBuzzer survey.4, 5 And a Harris survey found that Amazon has become America's most trusted brand, surpassing Coca-Cola and even Disney. Most recently, the company has begun offering Kindle users video chats with its customer service representatives within 30 seconds. Amazon continues to look for ways to impress shoppers and strengthen its already potent brand loyalty.
---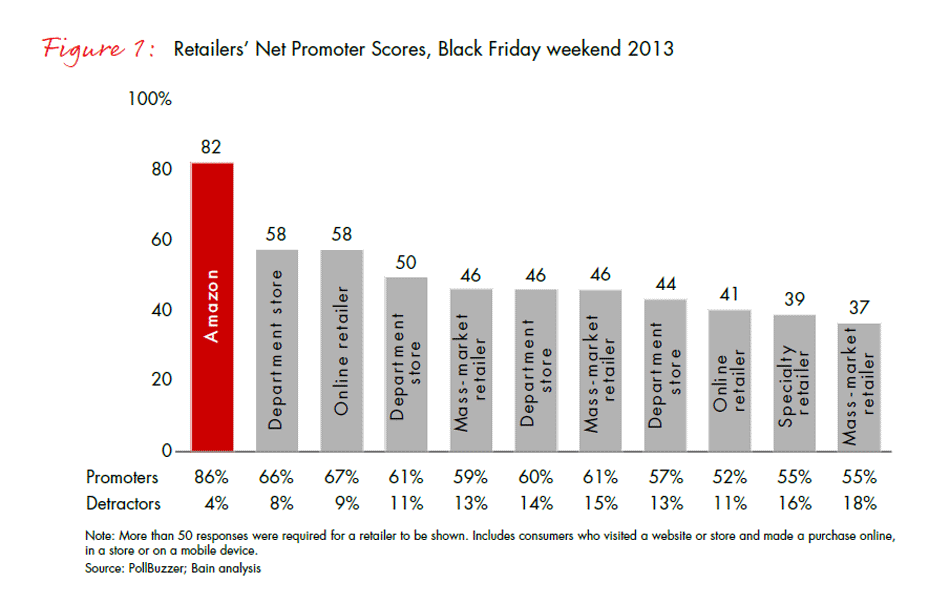 The flywheel strategy has proved very successful at delivering growth, and Amazon prizes this outcome. The company believes that scale drives better pricing and faster delivery and has led it to a commitment to always do what's best for the customer regardless of the short-term cost. In Jeff Bezos's own words: "If you're long term oriented, customer interests and shareholder interests are aligned. In the short term, that's not always correct. I care very much about our share owners, and so I care very much about our long-term share price." It seems the market agrees with him: Amazon's stock has gone up 700% since 2008.
Amazon's focus on growth is centered on creating "wow moments" or finding ways to eliminate pain points for shoppers. Other online pure-players are also finding ways to delight customers:
Relevant curation: Several online companies are using new technologies to help customers discover relevant products and services. For example, Glasses.com has a 3-D fit technology that creates an interactive 180-degree model of a shopper's face, which allows a shopper to browse and try on hundreds of frames—virtually—in less than a minute. Stitch Fix, a personal style provider, collects more than 100 data points about each customer and categorizes each piece of merchandise using the same metrics to deliver truly personalized suggestions. And Pinterest helps shoppers make new finds based on their friends' product "pins" and searchable themes.
Matching buyers and sellers: Some online companies are helping customers to find hard to find products that they want. Etsy, for example, connects customers looking for handmade and vintage items with craftspeople and do-it-yourselfers. Other companies facilitate local marketplaces: ShopSavvy's app links local buyers and sellers, and eBay's Milo app shows users all the local stores that carry what they're looking for.
Seamless checkout: PayPal is simplifying customers' lives, helping them make purchases without even taking out their wallets. Shoppers can already use their PayPal log-in to shop at stores, and the company's Beacon technology will allow them to automatically pay for an item as they leave a store.
Omnichannel innovations: The best of both worlds
The big question for retailers is the role of the store in an increasingly digital world. Some retailers think digital commerce could put physical stores out of business completely. Venture capitalist Marc Andreessen argues that "retail guys are going to go out of business and e-commerce will become the place everyone buys. Retail chains are a fundamentally implausible economic structure if there's a viable alternative." Sears seems to be thinking along the same lines and is dramatically reducing its investment in stores: In 2012, the company spent just $1.46 per square foot on physical infrastructure, one-sixth of the average spent by other leading US department and mass-merchandise stores. Sears CEO Eddie Lampert notes that "for sure there is more money we could be investing in our stores, but when we did invest in our stores, we didn't see a return." Others are sticking with a store-dominant strategy for now (Figure 2). Costco, for example, is taking a wait-and-see approach. Says CFO Richard Galanti: "We're very much a brick-and-mortar company, with 97%-plus of our business done in-store, not online. People actually do like to go out and shop." Discount retailers Ross Stores and Marshalls have websites, but no products are available for purchase there. This may change for Marshalls. T. J. Maxx, which is owned by the same parent as Marshalls, recently began selling online.
---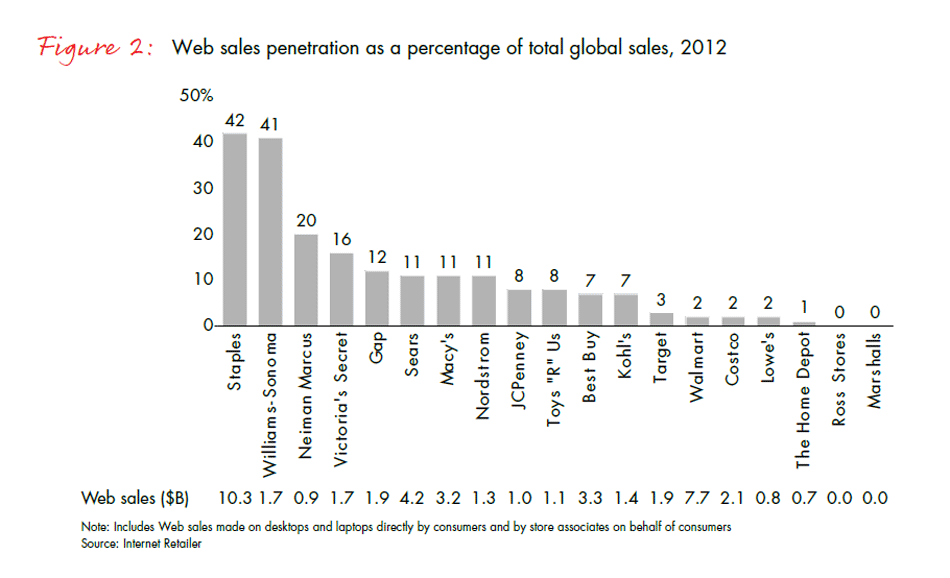 Bain believes the most likely scenario is that both stores and digital commerce will evolve in new and complementary ways, and that physical and online channels may eventually become so intertwined that consumers will no longer distinguish between them. Stores that survive will offer omnichannel experiences that combine the best of digital commerce—easy comparison shopping, expert advice, low prices and broad choices—with the best of physical shopping—sensory experiences, instant access, social interaction and easy returns. 
Two omnichannel experiences are getting a lot of attention this holiday season: flexible fulfillment and the store as an omnichannel stage.
Flexible fulfillment: More ways for consumers to get their goods
Shoppers value the ease of buying online, but that's not the only factor in their decision making. Also important are delivery speed, security of the package, the cost of delivery, the ability to pay in cash and the ability to see and touch the product before buying it. Convenient delivery is a key pain point: comScore found that nearly half of shoppers would like to be able to pick up orders at a convenient location or to choose specific delivery dates and times.
Online pure plays are moving fast to offer customers new fulfillment options. As part of its AmazonFresh rollout, Amazon is building fleets of trucks for same-day grocery delivery (currently available in Los Angeles, Seattle and San Francisco), which may ultimately be used to deliver all of the company's products. The Amazon Locker program gives customers the option to have their orders delivered to a 7-Eleven or other local retailer, where orders can be picked up securely and conveniently. And we have all heard about the now-famous Amazon experiment in drone delivery!
Google, ShopRunner and eBay are close to offering customers near-instant delivery on many goods. Customers can already pay eBay Now $5 to deliver orders from several major retailers within an hour in San Francisco, New York, Chicago and Dallas (the service is free through December 24). Instacart provides a similar service for groceries. The company operates in San Francisco, Los Angeles, Chicago and Boston, and delivers within an hour for as little as $3.99.
But traditional retailers have a potential advantage in terms of fulfillment: their physical stores. One ambitious idea retailers are pursuing is redesigning stores as customer pickup and distribution centers. Retailers are facilitating in-store pickups of online orders, shipping online orders directly from stores, shipping inventory between stores and accepting in-store returns of online purchases (Appendix Exhibit 4). Macy's is an early leader in fulfillment capabilities: By the end of the year, 500 of its 800 stores will have a ship-from-store capability, and a buy-online-pick-up-in-store option is set to begin next year. Other retailers are also investing heavily in fulfillment: Target rolled out in-store pickup just in time for Black Friday, and Gap Inc. expanded its reserve-online pilot to all Gap and Banana Republic stores.
Offering these services isn't business as usual. Store associates have to be trained and even incentivized. Assortment and inventory management becomes more complicated, requiring new technology and management processes. Stores may even need to be retrofitted or redesigned. However, Bain's experience indicates that flexible fulfillment does more than increase shipping speed. Retailers can also see other benefits, from lower shipping and markdown costs to improved product availability, increased sell-through and higher customer satisfaction.
The store as an omnichannel stage
Customers still like going to physical stores. Bain's survey with PollBuzzer found that 80% of shoppers over the four-day Thanksgiving weekend visited at least one store, and 52% of them made a purchase they weren't planning to make. Even "born-digital" retailers recognize the power of a physical presence. Amazon, for example, recently opened a handful of pop-up stores to promote the company's Kindle e-readers and show how well they perform even under adverse lighting conditions. Rent the Runway, which allows customers to rent designer dresses for special occasions, also made the offline transition with a new flagship showroom inside New York's Henri Bendel department store. Shoppers can try on a wide array of dresses and accessories, and use the scanners and iPads in each fitting room to save their favorites to their "dream closet." Bonobos may be the most striking example: The online-gone-offline company has opened eight showrooms to allow customers to touch and try on its products, and also showcases products in 70 Nordstrom stores.
Especially as pure plays begin to offer their own store experiences, the challenge for traditional retailers is to think creatively about using their brick-and-mortar advantage to delight customers. Here are some of the things they're doing:
Help me find what I want: Many retailers are seeing the value of well-trained store associates in helping customers make better decisions. For example, Lowe's store associates use mobile devices to retrieve past-purchase information to help customers find the right home improvement supplies for their home. Apple trains its "Genius" associates for 14 days so that they are well equipped to handle the toughest technical questions. Many retailers are also using technology to help their in-store shoppers make better decisions. Shoppers at Sephora can use the Pantone Color IQ handheld device to find an exact makeup match for their skin tones. Customers at Crate and Barrel not only get to sit on showroom sofas; they also can use the 3D Room Designer app to see how those sofas would look in their homes. Sometimes the best customer service is created by empowering customers themselves: Target's app allows customers to locate products in-a store and read product reviews. It even recommends products based on customers' searches.
Let me try it out: Many retailers are finding new ways for customers to use their products while still in the store. Verizon has organized its newest stores to promote hands-on interaction with products in real-life situations. For example, shoppers can "get fit" on a virtual hike with the Fitbit Zip activity monitor or "have fun" by competing on a smartphone-powered miniature golf course. Another example: Microsoft hosts tournaments that let shoppers test out the latest equipment in the stores. The Home Depot and Lowe's offer training to their in-store customers, even hosting workshops where children can make crafts using the store's tools and supplies.
Inspire me: Some retailers are outfitting their physical stores with the latest digital technology to showcase their brands and inspire customers. Shoppers at Burberry's flagship store can use their smartphone to watch a short video on how a specific product was designed and created. And customers entering Adidas's international concept stores can interact with the storefront touchscreen windows to browse for life-sized products. Once inside a store, customers can change the music with a digital jukebox and learn more about products they decide to try on via displays in each changing room.
Moving from competitive benchmarking to customer path-breaking
Many retailers are taking omnichannel steps, but are they moving fast enough, and in the right direction, to survive digital Darwinism? Often retailers get stuck in competitive benchmarking. They may call it "fast-follower strategy," but it's still "follow the leader," a game that seldom gives players a competitive advantage. By the time companies realize they need to copy an innovation, they still face high costs, have lost years of experience and miss out on the loyalty benefits of being first. Few customers are likely to be impressed by something "new" that other retailers have been offering for two to five years. And when retailers are forced to play catch-up with an innovation that is years old, they fall even further behind on meeting the next wave of innovations—all while their rivals are moving on to new ways to win market share. Retailers who stand out as successful innovators have two traits in common: They dedicate themselves to improving the lives of their customers, and they maintain a long-term perspective.
Retailers looking to innovate have a difficult task in front of them: They need to delight customers who often can't articulate what they want. As Procter & Gamble's CEO A.G. Lafley explains, "Here's the problem—consumers cannot really tell us what they want. They can tell you why they like it or why they don't like it, but they cannot tell you what they want. Nobody told us that they wanted Crest White Strips. Nobody told us that they were dying for a Swiffer. Nobody told us that Febreze would make their life better." Identifying what consumers can't articulate demands a deep understanding of their behavior. The goal is to identify pain points that need easing and opportunities to delight. Bain research suggests companies that do this profitably blend creative thinking with commercial foundation. We call this BothBrain® innovation.6 And once a retailer finds a great idea, it still requires a leap of faith to invest in a yet-to-be-proved concept. For example, Apple recognized that customers needed to learn more about its innovative products, but the decision to launch stores cost the company close to $100 million at a time when it was already losing money. In 2012, Apple stores were the most productive stores in the world, with average annual revenue of more than $6,000 per square foot.
Successful innovators also focus on the long term. Instead of evaluating an opportunity solely on its transactional profitability and contributions to short-term profits, these companies measure the returns generated by strong customer relationships. One example: Amazon Prime. The program seems like a terrible investment. For $79 a year, the company gives members unlimited two-day free shipping (which typically costs more than $10 for each order), free access to more than 40,000 streaming videos (movies and television episodes) and free downloads of more than 350,000 Kindle titles. Yet this seemingly poor investment appears to be generating strong returns: Amazon reached an estimated 16 million Prime members this year, and Piper Jaffray estimates that these customers more than double their spending with Amazon after joining Prime.
Studying competitors isn't always a bad thing, but thinking about what they might do versus what they're already doing is important. Consider a few of Amazon's possible moves. What if the company decides to open its own stores? Those stores could feature Amazon-branded products, or products from preferred sellers, and build on the Amazon Locker concept to offer around-the-clock pickups and returns for online orders. What if AmazonFresh and Amazon Pantry own the last mile of delivery in 30 of the top 50 metropolitan areas? What if Amazon Payments reduces its exposure to credit card fees and passes the savings along to Prime members? Some of these may seem impractical, but none are implausible given Amazon's long-term focus on its customers. Retailers who don't want to play "follow the leader" have to come up with their own aspirations for delighting customers and start figuring out how to turn the unimaginable into reality.
The path forward
While retailers are focused on building omnichannel capabilities and finding new ways to make their customers happy, they need to remember that successful innovation requires making difficult decisions. Just because a new technology is available doesn't mean it's a good investment. Retailers have to make their own choices, and they should start by asking the following questions:
What is our ambition as a company? What do we want to be famous for?
Where and how will we win? What "wow moments" can we create? What pain points can we solve?
What are the implications for our operating strategies, infrastructure requirements, operating model and more-detailed organization design?
What is the path from where we are to where we need to be? How long will the journey take? And how are we going to pay for it?
No matter the answers, every retailer must have the organizational flexibility to innovate, learn and adapt over time. Our next and final newsletter, released at the end of January, will recap holiday season sales and examine how leading retailers are modernizing their organizations to win in the future.
We wish you a happy holiday and look forward to connecting with you in the New Year.
For a list of selected references, please view the full article.
Appendix
---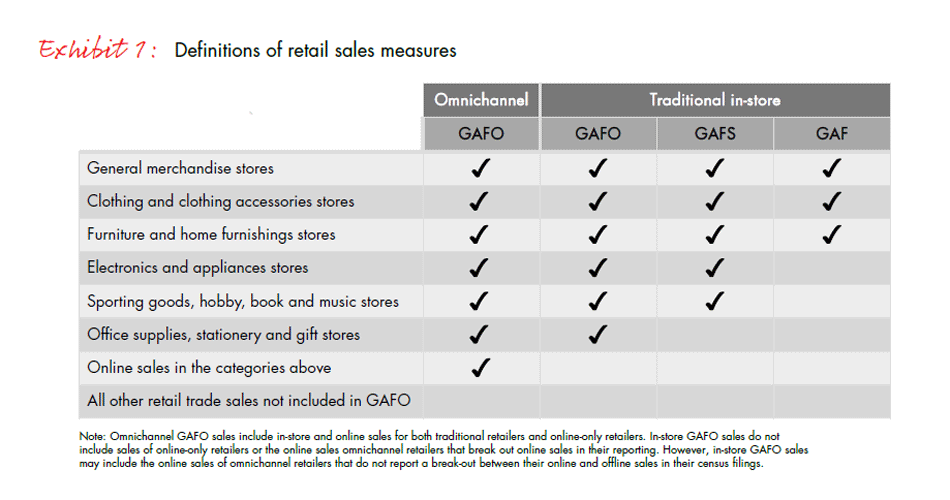 ---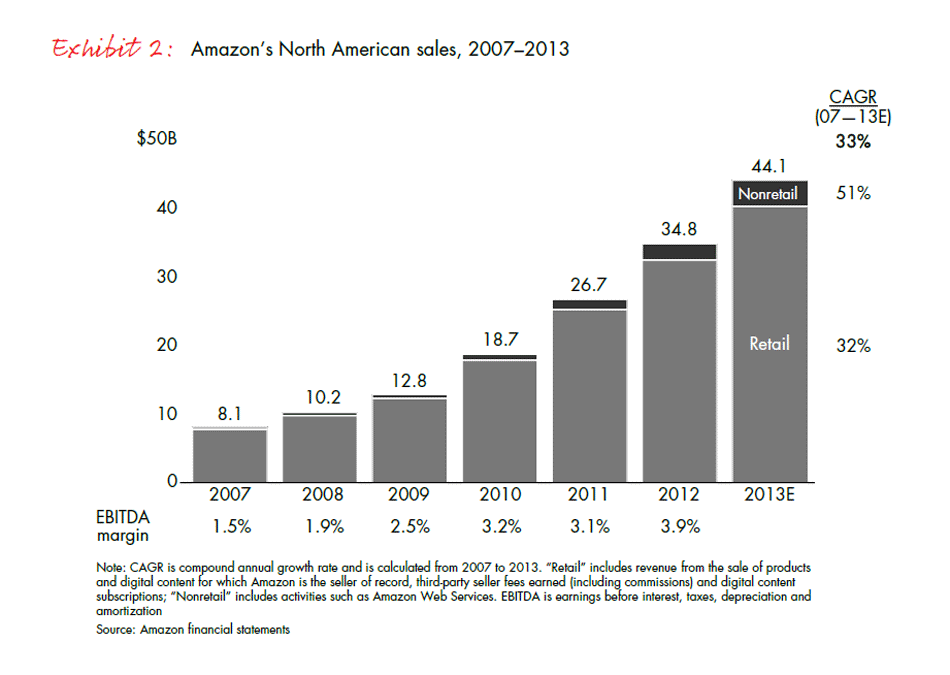 ---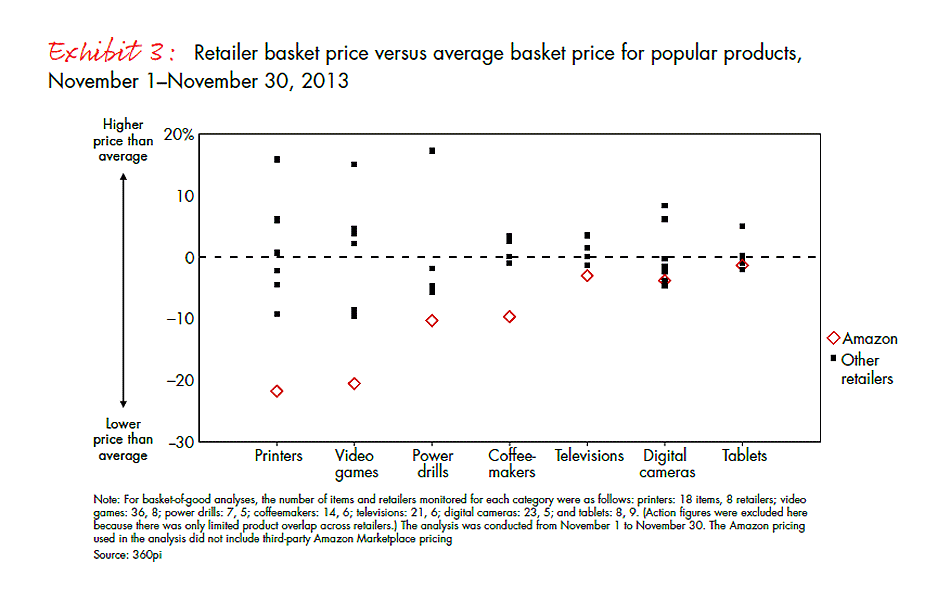 ---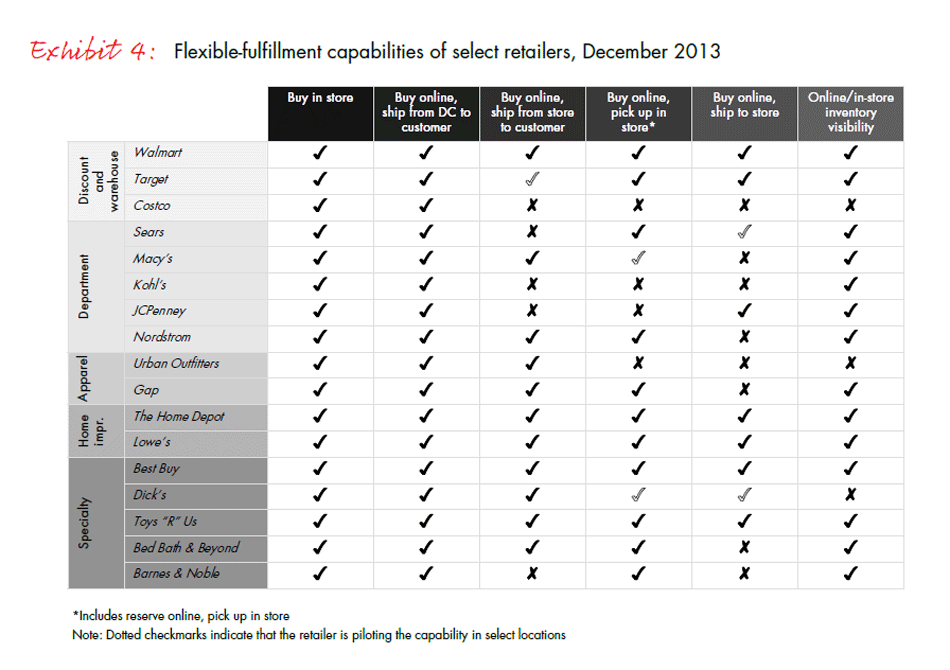 ---
1 Bain's forecast includes both in-store and online GAFO sales for the months of November and December. See Exhibit 1 in the Appendix for definitions of GAFO and other sales measures. 
2 Year-over-year comparisons are more difficult this year due to the fact that Thanksgiving was later, pushing Cyber Monday into December and shortening the peak sales season between Thanksgiving and Christmas by six days. When comScore measured online sales growth over the same calendar days—November 1 to December 9—it found growth of just 9% (versus 25%).
3 A pricing analytics company, 360pi helps retailers make smarter pricing decisions. According to the company, it works with top retailers to enable them to "gain real-time visibility into the market, full awareness of the competitive pricing landscape and the ability to 'right-price' to shoppers, which often leads to revenue uplift and higher margins." 
4 Net Promoter ScoreSM (NPS®) is a tool designed to measure customer loyalty and advocacy. The score is calculated by asking customers to rank the likelihood of their recommending the retailer to a friend or colleague. The percentage of respondents who answer 9 or 10 is then subtracted from the percentage of respondents who answer 6 or less. NPS® ties directly to behavior and economics at the individual-customer level: Those who give a retailer a high rating tend to stay longer in a store, buy more and refer more than those who assign lower ratings. Net Promoter ScoreSM and NPS® are registered trademarks of Bain & Company, Inc., Fred Reichheld and Satmetrix Systems, Inc. 
5 PollBuzzer™ offers a real-time consumer opinion survey product. According to PollBuzzer, clients use demographic, geographic and socioeconomic filters to build customized panels drawn from PollBuzzer's proprietary national respondent pool, build their own surveys using a do-it-yourself Web interface and receive Excel-formatted results in as little as one hour after launch. 
6 Bain's BothBrain® Innovation approach utilizes the creative and the analytic talents within organizations to innovate across the full customer experience.