Benchmarking improves performance by identifying and applying best demonstrated practices to operations and sales. Managers compare the performance of their products or processes externally with those of competitors and best-in-class companies, and internally with other operations that perform similar activities in their own firms. The objective of Benchmarking is to find examples of superior performance and understand the processes and practices driving that performance. Companies then improve their performance by tailoring and incorporating these best practices into their own operations—not by imitating, but by innovating.
Usage and satisfaction among survey respondents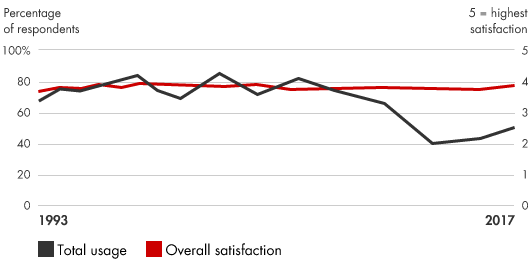 How Benchmarking works:
Select a product, service or process to benchmark
Identify the key performance metrics
Choose companies or internal areas to benchmark
Collect data on performance and practices
Analyze the data and identify opportunities for improvement
Adapt and implement the best practices, setting reasonable goals and ensuring companywide acceptance
RELATED TOPICS

HOW BAIN CAN HELP

Best Demonstrated Practice
Competitor Profiles
Companies use Benchmarking to:
Improve performance. Benchmarking identifies methods of improving operational efficiency and product design.
Understand relative cost position. Benchmarking reveals a company's relative cost position and identifies opportunities for improvement.
Gain strategic advantage. Benchmarking helps companies focus on capabilities that are critical to building strategic advantage.
Increase the rate of organizational learning. Benchmarking brings new ideas into the company and facilitates experience sharing.
---
Selected references
American Productivity and Quality Center. www.apqc.org
Bogan, Christopher E., and Michael J. English. Benchmarking for Best Practices: Winning Through Innovative Adaptation. McGraw-Hill, 1994.
Boxwell, Robert J., Jr. Benchmarking for Competitive Advantage. McGraw-Hill, 1994.
Camp, Robert C. Benchmarking: The Search for Industry Best Practices That Lead to Superior Performance. Productivity Press, 2006.
Coers, Mardi, Chris Gardner, Lisa Higgins, and Cynthia Raybourn. Benchmarking: A Guide for Your Journey to Best-Practice Processes. American Productivity and Quality Center, 2001.
Czarnecki, Mark T. Managing by Measuring: How to Improve Your Organization's Performance Through Effective Benchmarking. AMACOM, 1999.
Denrell, Jerker. "Selection Bias and the Perils of Benchmarking." Harvard Business Review, April 2005, pp. 114–119.
Harrington, H. James. The Complete Benchmarking Implementation Guide: Total Benchmarking Management. McGraw-Hill, 1996.
Iacobucci, Dawn, and Christie Nordhielm. "Creative Benchmarking." Harvard Business Review, November/December 2000, pp. 24–25.
Lane, Leonard. The Power of Benchmarking. Lexingford Publishing, 2016.
Reider, Rob. Benchmarking Strategies: A Tool for Profit Improvement. John Wiley & Sons, 2000.
Stauffer, David. "Is Your Benchmarking Doing the Right Work?" Harvard Management Update, September 2003, pp. 1–4.