Brief
Retailers' Challenge: How to Cut Carbon Emissions as E-Commerce Soars
Consumers are thrilled by the speed and flexibility of e-commerce. But the proliferation of new retail channels and choices is changing their purchasing behavior, and overall, that's taking a negative toll on the environment.
Online purchases in the US neared $400 billion in 2016 and now make up 8% of overall retail spending and up to 40% in some categories, such as consumer electronics. As shoppers move online en masse, their expectations also are increasing. Instead of waiting a week to receive a purchase, they want it tomorrow—or even today. That means a sharp rise in home deliveries and individual packages.
Many retailers have begun to reduce the carbon footprint of their brick-and-mortar shops and distribution networks. But few have examined how e-commerce trends are transforming their carbon footprint. That's no surprise: The proliferation of purchasing channels and delivery options makes the task far more challenging. When a consumer buys goods online, the main factors influencing the total carbon emissions—namely, last-mile delivery and packaging—are more difficult to measure.
A few sustainability leaders have begun gathering data, developing new approaches and encouraging consumers to opt for more sustainable choices. As part of that effort, they discovered that rooting out carbon inefficiencies often is good for business, reducing costs and delighting customers with more convenient options. Bain analysis shows that doubling the average number of items purchased per e-commerce transaction and eliminating split shipments would reduce average per-item emissions by 30% and cut shipping costs more than 50%.
Understanding a changing landscape
Carbon emissions can vary significantly depending on how a customer shops. Take the case of Walmart, the largest US retailer with more than 4,000 stores and a rapidly growing e-commerce business. Walmart studied the emissions generated by its own brick-and-mortar retail stores compared with its e-commerce channel to understand the relative impact of each, on average and for specific types of purchases. It found that store purchases are more efficient on average but when customers purchase fewer items and would otherwise make a dedicated trip to the store, Walmart.com is the more efficient choice.
When Walmart examined average per-item emissions, the data showed its brick-and-mortar purchases have a smaller carbon footprint since customers typically buy more items in stores than online and often combine their trip to the store with other stops. In the brick-and-mortar channel, the energy that stores consume is an important emissions contributor, but it is spread over a large volume of items. The customer's trip to the store is another significant generator of emissions, but customers often reduce their environmental footprint by shopping on the way to or from work, school or other errands, and by purchasing multiple items (see Figure 1).
---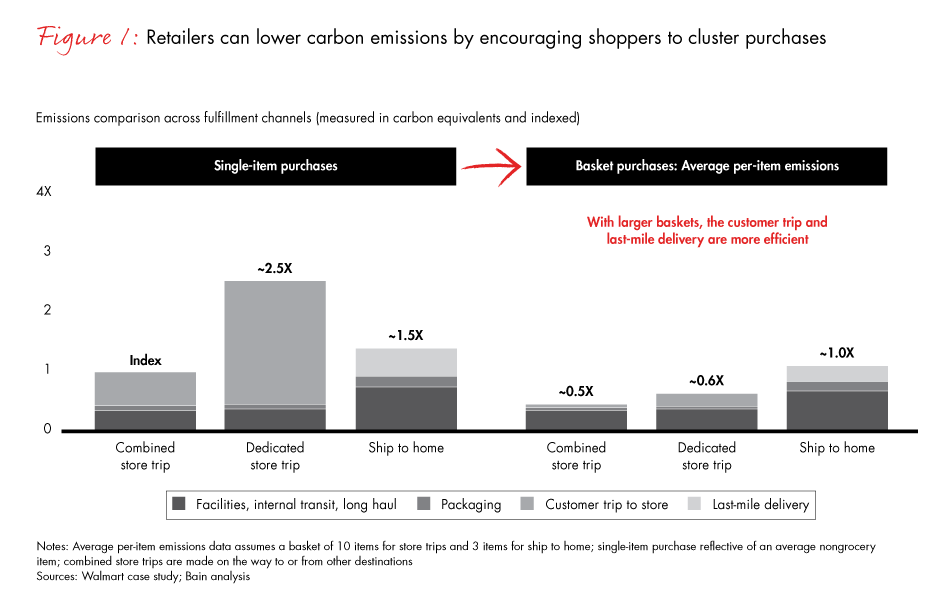 The e-commerce channel, on average