Caso di Studio
Boosting a utility's workforce productivity
In evidenza
25% increased productivity in the first year
15-25% targeted for year two
Intera notizia/storia
The Situation
UtilityCo* operates one of the most extensive transmission and distribution grids in the United States spread over 50,000 square miles. In 2010, the company launched an ambitious, multi-million dollar upgrade to modernize its aging infrastructure and improve the reliability of service for more than 13 million customers.
To get the most out of every dollar of capital spending the company needed to significantly improve field force productivity. Past attempts to boost efficiency had yielded mixed results and failed to deliver sustained improvements over time or across the utility's geographically dispersed districts. The challenge: discover what was impeding field force effectiveness and develop a long-term solution that would maintain productivity gains.
Our Approach
Collaborating with the company's management team, Bain conducted an in-depth diagnostic to analyze why past productivity initiatives had failed and develop an integrated plan for change. Bain dispatched its teams to live in the field and collect field data and learned that the crews wrench time averaged ~40%. Bain team then broke out the findings into four key areas:
Work order quality: The diagnostic showed that insufficient communication between planners/designers and field crews resulted in on-site changes to work orders. In addition, time estimates often didn't accurately reflect actual work.
Work and resource scheduling: Inadequate planning and scheduling led to unnecessary downtime and scheduling gaps. And while crews had increased in size, they were not necessarily mapped appropriately to type of work.
Work support: There were often duplicative and ill-defined roles trying to help the crews prepare for work the day/week of a work event.
Performance management: The company had multiple metrics/measures, but few effective productivity and efficiency measures that truly helped field supervisors and management understand and increase productivity of the crews.
"Living in the field diagnostic" revealed the following, including the 40% wrench time: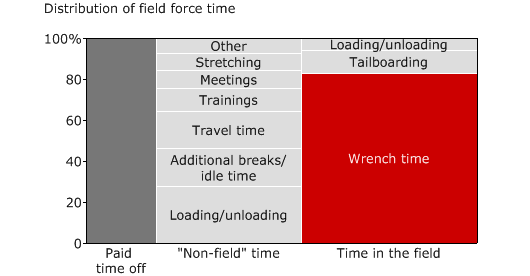 Our Recommendations
Bain recommended that the company adopt an integrated, customized solution for each service territory. The solution focused on the four areas that the diagnostic targeted for improvement.
Improve the quality of work orders and time estimates to make the most of the work day
Increase consistency and control over work and resource scheduling to reduce downtime and better align crews with the types of work
Institute feedback processes and reevaluate role definitions to increase communication and collaboration across planning and scheduling
Establish the right level of service territory ownership and accountability by clearly defining responsibilities and instituting performance metrics
Key components of the field program integrated solution, developed bottoms up, customized by region: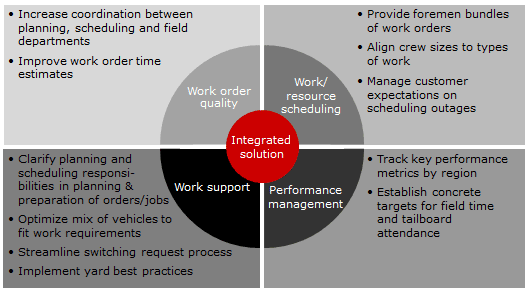 The Results
With Bain's help, UtilityCo realized a dramatic improvement in the productivity of its field workers. Productivity jumped by as much as 25%+ during the first year, with an additional 15-25% targeted for year 2.
Pilot work and resource scheduling projects proved successful. They increased the work rate by bundling work orders; reduced the average crew size; and, streamlined yard layouts and materials processing.
Higher productivity gains are projected as new performance metrics re-enforce change. In addition, the joint rollout by UtilityCo and Bain has built in-house capabilities to sustain performance improvements.
Integrated field solution has driven more and 25% productivity improvement during the first year: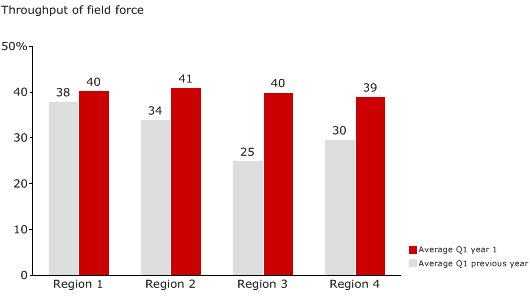 * We take our clients' confidentiality seriously. While we've changed their names, the results are real.