Bain's annual Customer Loyalty in Retail Banking report surveyed 150,100 consumers in 14 countries. Specific country findings are detailed in these individual snapshots. Globally, the survey reveals a surge in mobile banking and tepid loyalty scores by affluent customers in many markets, with implications for how banks should redesign their channel strategies. 
---
Hong Kong 
We surveyed 1,400 customers of 12 banks, and we have included the six banks that had a sufficient sample size. Here are the highlights.
Loyalty leaders. Hang Seng, the NPS leader, historically has had strong connections to local neighborhoods through convenient locations, community activities and an emphasis on customer service. DBS has been a relatively lowprofile bank emphasizing wealth management and tailored products and services for mass-affluent segments, and it garners relatively high scores among these households. Third-ranked Standard Chartered has adroitly relocated branches, improved their internal layout and invested in making them highly visible to consumers; it has also made progress in better integrating mobile and online functions with its Breeze platform (see Figure 6.1).
---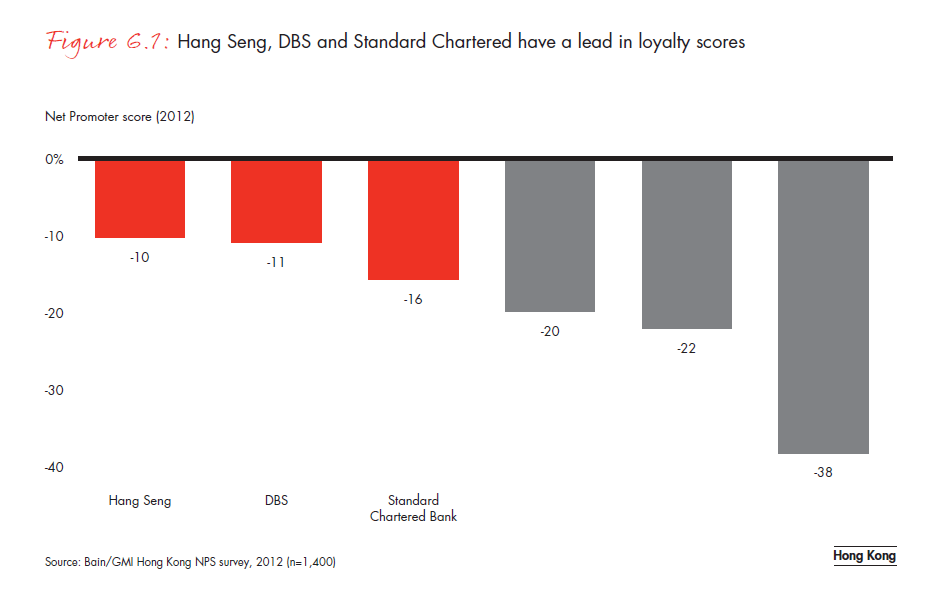 Channel usage and its effect on customer referrals. ATMs and branches remain the dominant channels for customers, with online interactions close behind. Hong Kong consumers value close proximity to ATMs, and the terminals allow them to pay bills, transfer funds, deposit checks and perform other functions besides traditional cash transactions. Mobile usage, meanwhile, is quite high relative to other countries, at 41% of respondents. That's consistent with the generally high penetration of smartphones and mobile applications in other industries, such as food delivery. Online transactions and ATMs are the most likely to generate referrals (see Figure 6.2). All banks have the opportunity to improve the branch experience, including wait times and the mobile experience.
---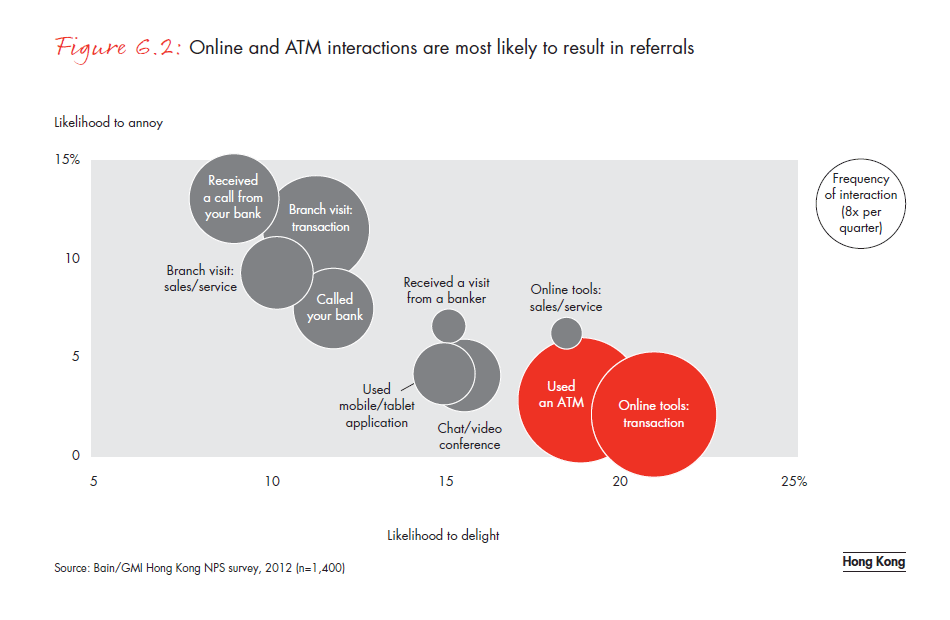 Loyalty among affluent segments. Net Promoter scores rank highest among the most affluent segment (see Figure 6.3), perhaps because many banks offer the affluent a separate counter or branch, faster phone service and a better trained relationship manager. To be sure, Hong Kong banks have room to improve their wealth management services, which score lower than general banking.
---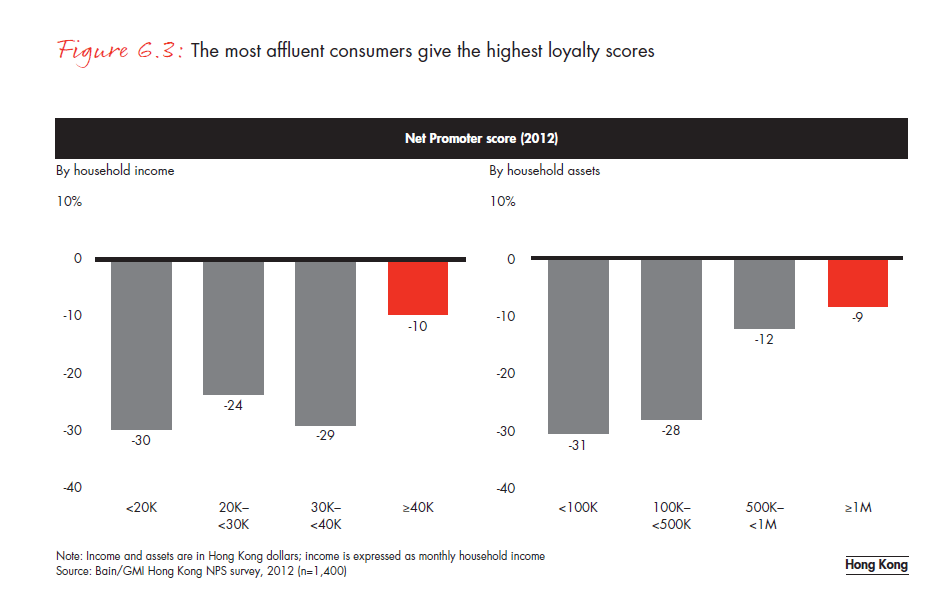 Full report | Country profiles:
Americas:  Canada | Mexico | US  Europe: France | Germany | Spain | UK 
Asia-Pacific: Australia | China | Hong Kong | India | Singapore | South Korea | Thailand
---
A note about loyalty scores worldwide
As banks review their Net Promoter scores, those with high scores may be tempted to compare across markets and declare themselves "best national bank" or "best credit union" globally. But that would be misleading. Click here to learn more.