Bain's annual Customer Loyalty in Retail Banking report surveyed 150,100 consumers in 14 countries. Specific country findings are detailed in these individual snapshots. Globally, the survey reveals a surge in mobile banking and tepid loyalty scores by affluent customers in many markets, with implications for how banks should redesign their channel strategies. 
---
South Korea 
We surveyed 1,700 customers of 15 banks, and we have included nine banks with a sufficient sample size. Here are the highlights.
Loyalty leaders. Consumers give all banks in Korea low NPS scores. The reasons may range from a national tendency to be highly critical of institutions in general to the swelling ranks of house-poor individuals who struggle to make their mortgage payments.
Kookmin Bank, Shinhan Bank and Citibank lead the pack in loyalty scores. Kookmin has an extensive branch network. Shinhan is a large bank that offers relatively high-caliber services and was an early adopter of digital channels. Its website, for instance, offers unsecured loan products and asset management. Citibank serves all segments, but it pioneered private banking for the affluent in Korea and still boasts the largest customer base among wealthy households.
Channel usage and its effect on customer referrals. Korea's mobile banking usage ranks highest of all the countries we surveyed, at 47%. Mobile penetration in general is very high, thanks to a long-established infrastructure and relatively inexpensive service and devices. Moreover, mobile has an extremely strong positive influence on customer advocacy, with online transactions a distant second, reinforcing how mobile applications now function as efficiently as online offerings. By contrast, there is substantial consumer dissatisfaction with branch and phone banking (see Figure 10.1).
---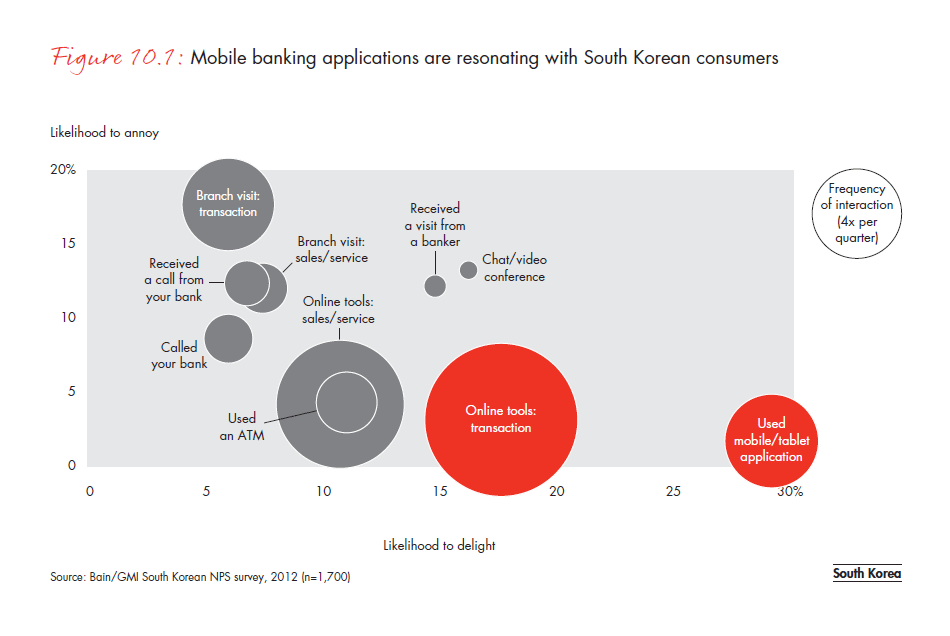 Loyalty among affluent segments. NPS scores tend to improve with higher income and more assets, although they are still negative (see Figure 10.2). And the youngest customers give higher scores than do older generations, possibly because their mobile usage is more intense. As private banking services become more robust, NPS scores among the affluent may rise into positive territory.
---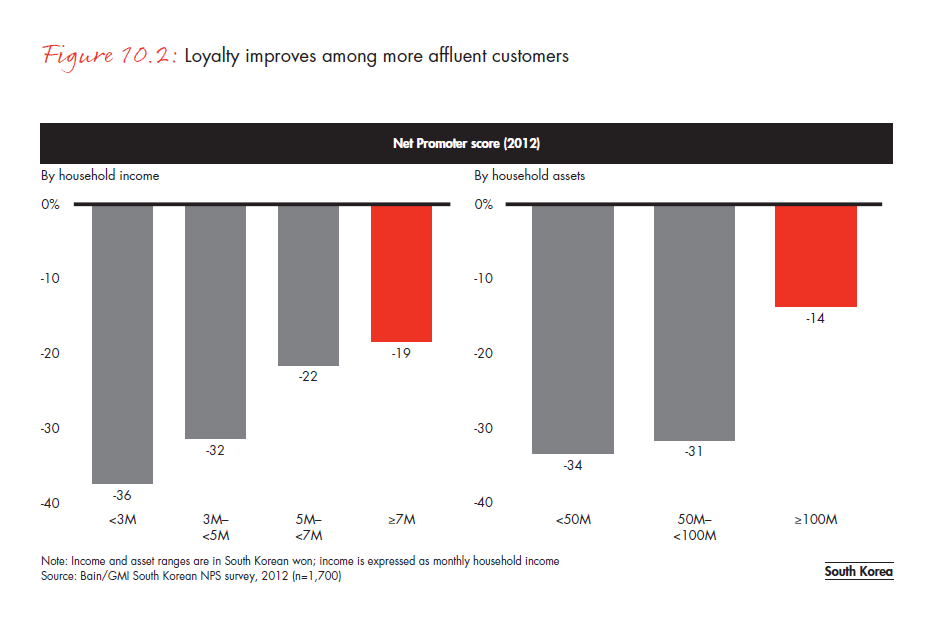 Full report | Country profiles:
Americas:  Canada | Mexico | US  Europe: France | Germany | Spain | UK 
Asia-Pacific: Australia | China | Hong Kong | India | Singapore | South Korea | Thailand
---
A note about loyalty scores worldwide
As banks review their Net Promoter scores, those with high scores may be tempted to compare across markets and declare themselves "best national bank" or "best credit union" globally. But that would be misleading. Click here to learn more.