Bain's annual Customer Loyalty in Retail Banking report surveyed 150,100 consumers in 14 countries. Specific country findings are detailed in these individual snapshots. Globally, the survey reveals a surge in mobile banking and tepid loyalty scores by affluent customers in many markets, with implications for how banks should redesign their channel strategies. 
---
United Kingdom 
We surveyed roughly 10,000 customers of 22 banks, and we have included the 10 banks with a sufficient sample size. Here are the highlights.
Loyalty leaders. NPS scores for UK banks show an unusually wide range in 2012, which we attribute in part to highly publicized events over the summer: the LIBOR scandal affecting Barclays, the computer system malfunction at Royal Bank of Scotland and lingering public anger over government bailouts. Loyalty leaders, in contrast, were not involved in these events nor seen as beneficiaries. First Direct, a direct bank owned by HSBC, earned the top spot, followed by two building societies, Co-operative Bank and Nationwide. First Direct has earned the highest score by delivering superior customer service, backed by onshore call centers with highly trained staff, and offering a simple, transparent product and pricing. Both Nationwide's and Co-operative's marketing have focused on how they are different from the major "high street" banks (see Figure 13.1).
---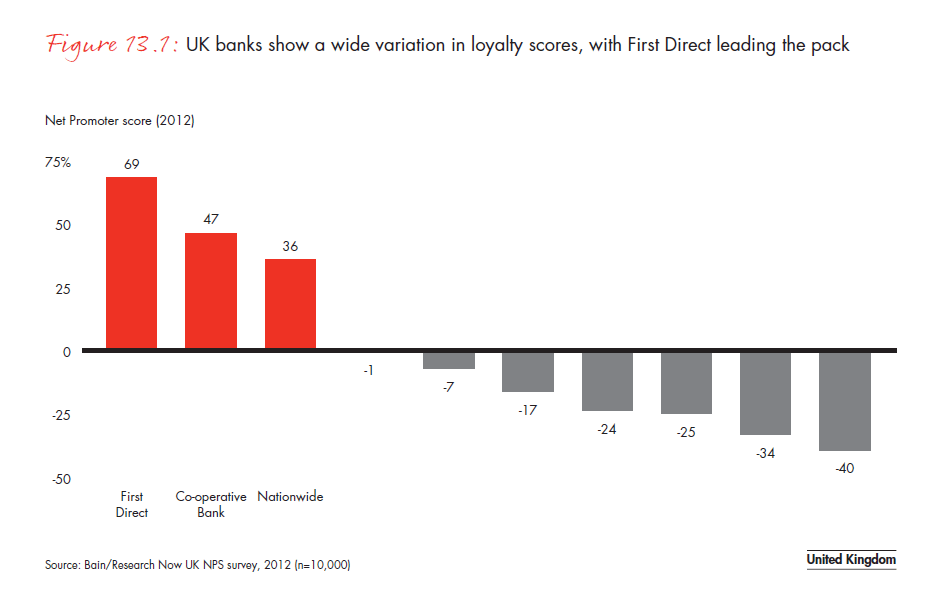 Channel usage and its effect on customer referrals. UK mobile banking usage, at 26%, falls slightly below average for developed countries and far below UK customers' ATM and online usage. Yet mobile is not far behind online tools in the propensity to delight customers (see Figure 13.2). First Direct, NatWest and Lloyds TSB lead in mobile usage and recently, several banks have been pushing innovative mobile applications. Barclays' new Pingit service, for instance, allows current account customers to send and receive cash through their mobile phones.
---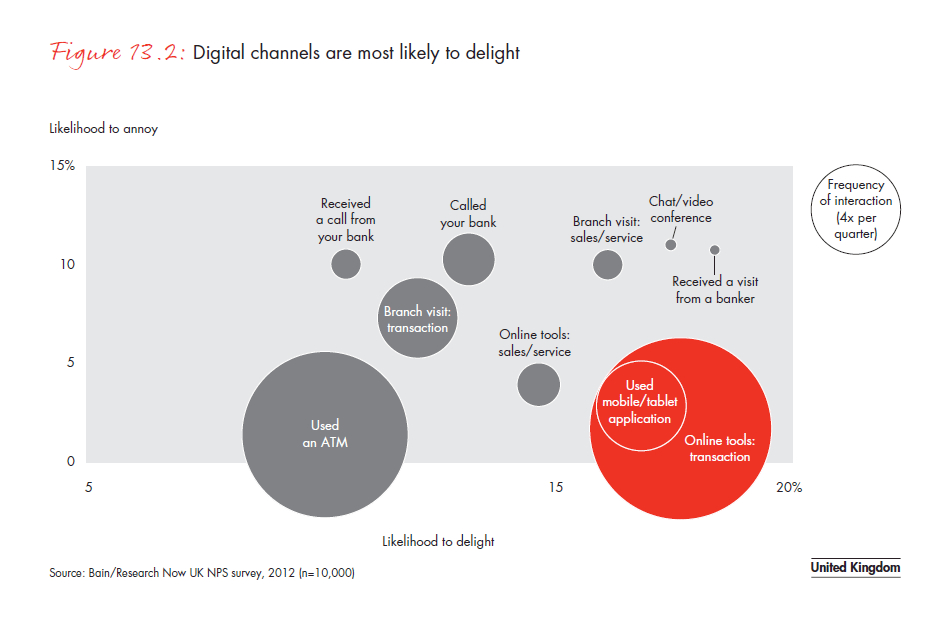 Loyalty among affluent segments. As in many Western countries, bank loyalty in the UK is particularly low among affluent customers (see Figure 13.3). First Direct and its owner, HSBC, buck this trend with their affluent customers rat ing them more highly than their nonaffluent customers. HSBC targets wealthy segments by opening separate branches in London, staffed with relationship managers, and by being able to serve expatriate executives across national borders.
---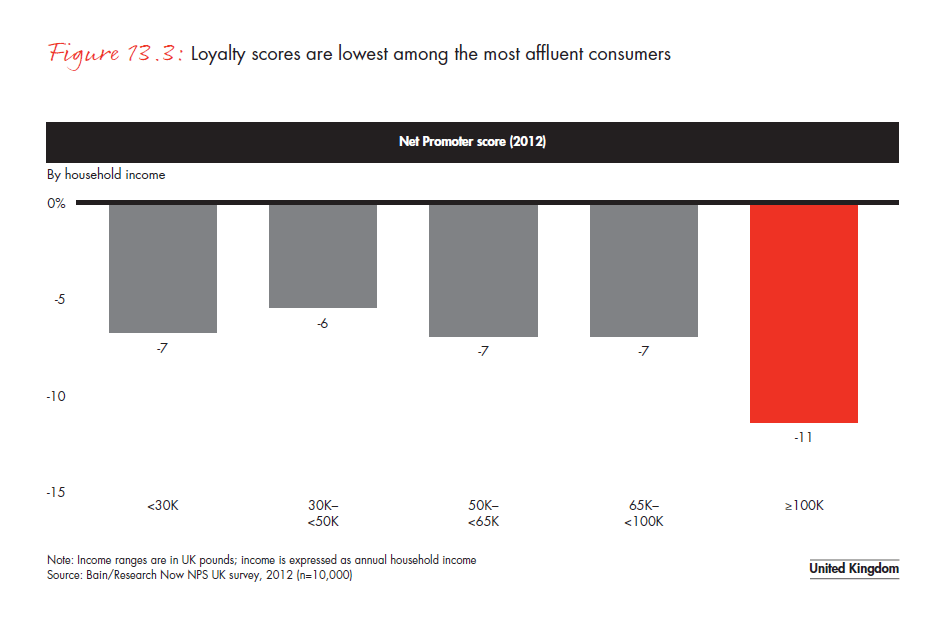 Full report | Country profiles: 
Asia-Pacific: Australia | China | Hong Kong | India | Singapore | South Korea | Thailand
Americas: Canada | Mexico | US  Europe: France | Germany | Spain | UK
---
A note about loyalty scores worldwide
As banks review their Net Promoter scores, those with high scores may be tempted to compare across markets and declare themselves "best national bank" or "best credit union" globally. But that would be misleading. Click here to learn more.