Bain's annual Customer Loyalty in Retail Banking report surveyed 150,100 consumers in 14 countries. Specific country findings are detailed in these individual snapshots. Globally, the survey reveals a surge in mobile banking and tepid loyalty scores by affluent customers in many markets, with implications for how banks should redesign their channel strategies. 
---
Thailand 
We surveyed 1,300 customers of seven banks, and we have included the six banks with a sufficient sample size. Here are the highlights.
Loyalty leaders. There was a wide variation in NPS scores among Thai banks (see Figure 12.1). KBank, or Kasikornbank, posted the highest score, which stems from several aspects of its business model: strong customer service; an appealing product line; open, inviting branch layouts and an ample supply of ATMs; a robust online presence; and the highest mobile usage of all banks.
---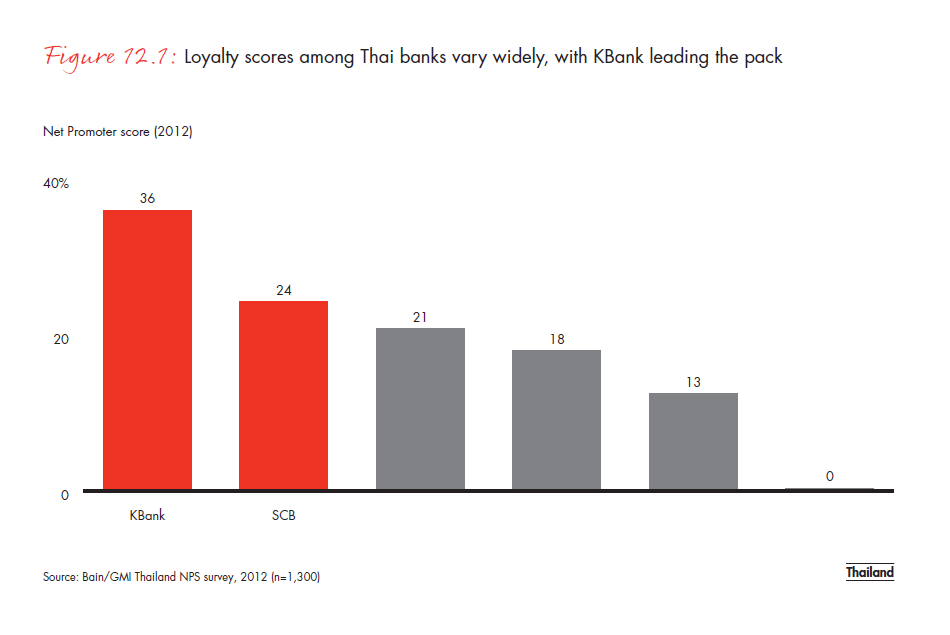 Channel usage and its effect on customer referrals. ATMs remain the dominant touchpoint for many consumers—indeed, the only point of interaction for many rural residents who operate in a cash-based economy. Reach, convenience and reliable functionality, then, are critical factors for those customers. And some customers appreciate that ATM networks also include many third-party sales links, such as partnerships with airlines to purchase tickets or mutual funds to make investments. Mobile banking, in contrast, remains low by global standards, as few banks have developed their mobile platforms (see Figure 12.2).
---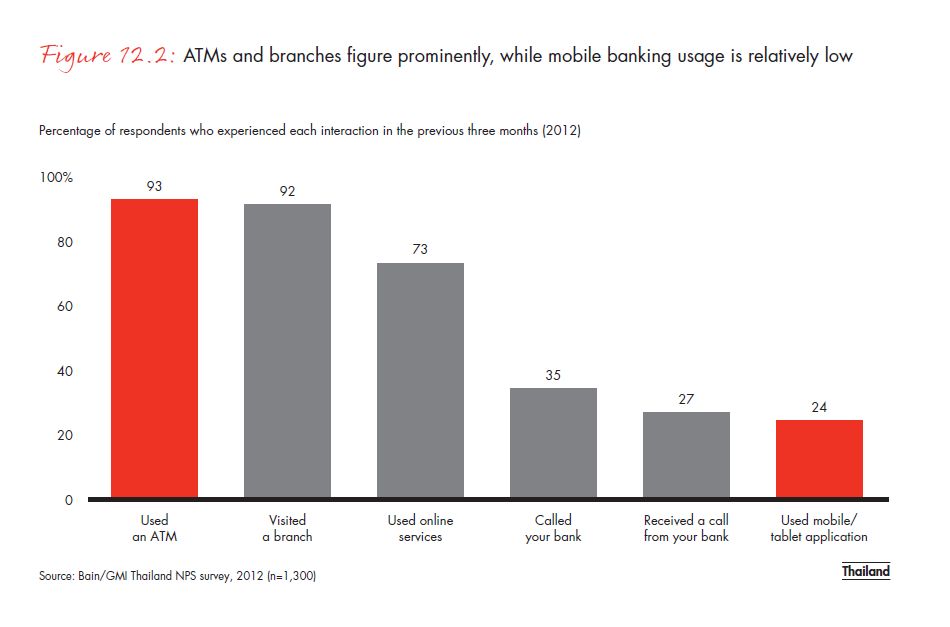 As a result, ATMs have the strongest positive influence on loyalty scores of all channels in Thailand, with online transactions a close second in the ability to delight (see Figure 12.3). The mobile experience is far behind in that regard.
---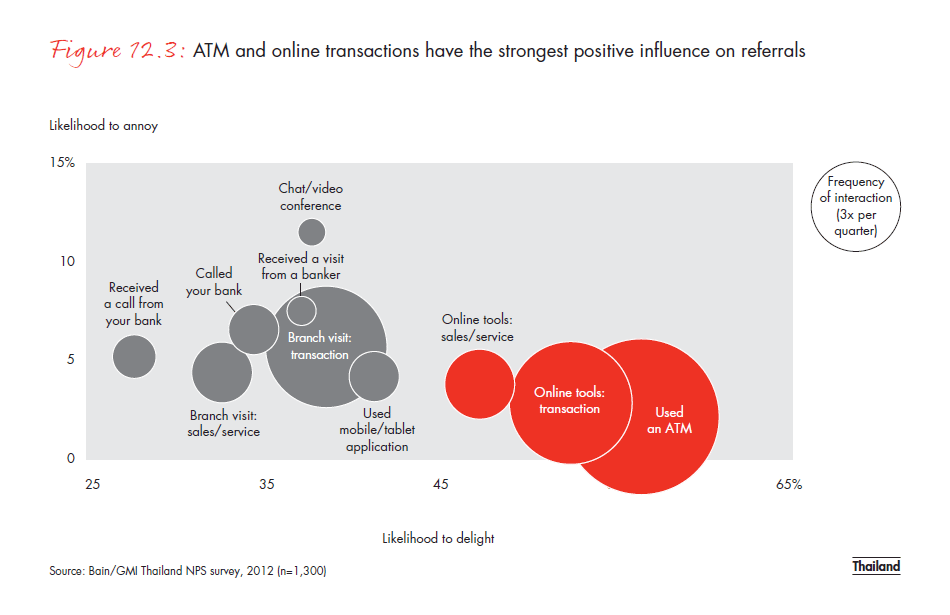 Loyalty among affluent segments. Loyalty scores increase with household assets, though when sorted by income, they are highest among middle-income customers. Wealth management offerings among Thai banks, which start at around 1 million baht, are relatively new.
Full report | Country profiles:
Americas:  Canada | Mexico | US  Europe: France | Germany | Spain | UK 
Asia-Pacific: Australia | China | Hong Kong | India | Singapore | South Korea | Thailand
---
A note about loyalty scores worldwide
As banks review their Net Promoter scores, those with high scores may be tempted to compare across markets and declare themselves "best national bank" or "best credit union" globally. But that would be misleading. Click here to learn more.