Bain's annual Customer Loyalty in Retail Banking report surveyed 150,100 consumers in 14 countries. Specific country findings are detailed in these individual snapshots. Globally, the survey reveals a surge in mobile banking and tepid loyalty scores by affluent customers in many markets, with implications for how banks should redesign their channel strategies. 
---
Canada 
We surveyed 13,700 customers of nine banks plus numerous small credit unions, and we have included the eight banks plus credit unions with a sufficient sample size. Here are the highlights.
Loyalty leaders. NPS scores range widely across banks in Canada, with TD Canada Trust leading the big five Canadian banks, though lagging behind the direct model of President's Choice and the small credit unions (see Figure 2.1). TD Canada Trust has a strong emphasis on customer service and features designed for convenience, such as extended branch hours. Many of the other big banks have higher scores this year and thus are closing the loyalty gap. President's Choice has a value-oriented position that resonates with its target market.
---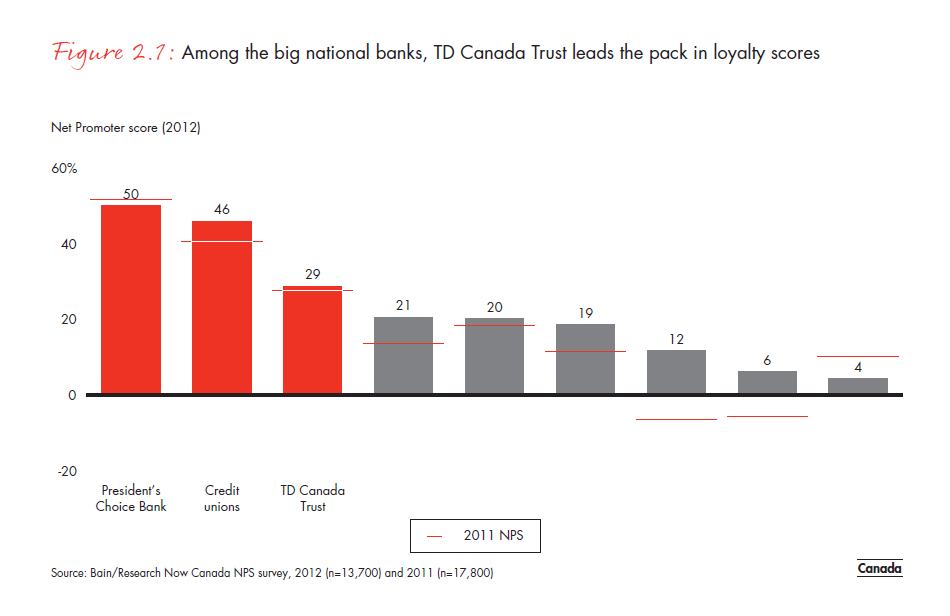 Channel usage and its effect on customer referrals. ATM and online interactions are the most popular modes of interaction with banks, with branches a close third. Mobile banking usage, at 22%, ranks lower than the global average. It's highest among the under-25 age group and rises with higher household income. Yet most banks have been behind the curve in launching smartphone and tablet applications. It pays for banks to invest quickly in these platforms, as digital channels are strong positive influencers on customer referrals (see Figure 2.2). Branch visits for sales or service also prompt recommendations, though less consistently than digital transactions. ATMs, meanwhile, don't have a strong influence either way, suggesting that upgrading ATM capabilities could serve to differentiate a bank.
---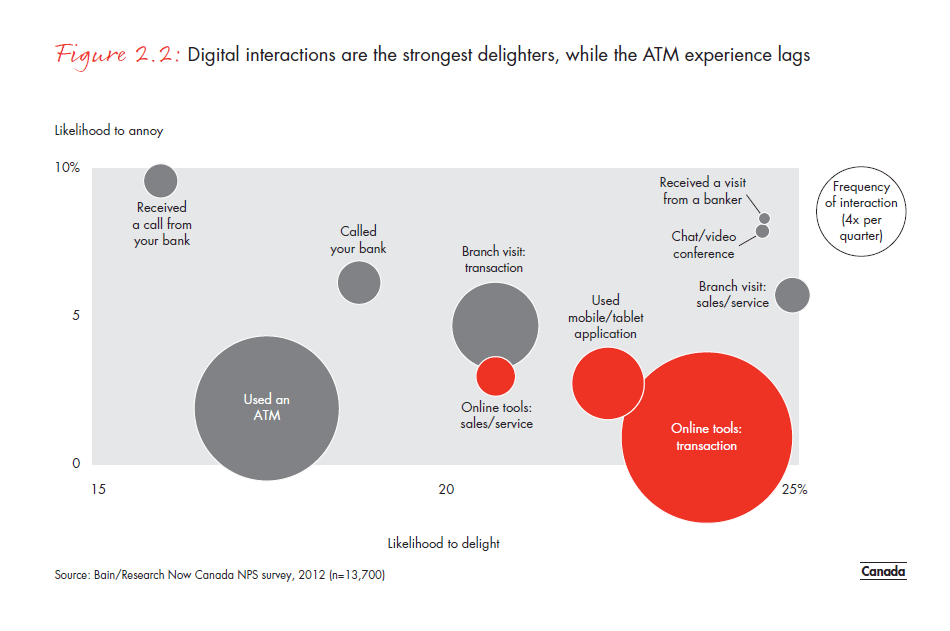 Loyalty among affluent segments. The most affluent customers in Canada give banks the lowest scores (see Figure 2.3). While most of the big banks have financial planners for affluent households, the planner force suffers from high turnover, and customers rarely have the convenience of one point of contact who can field questions or issues about multiple products.
---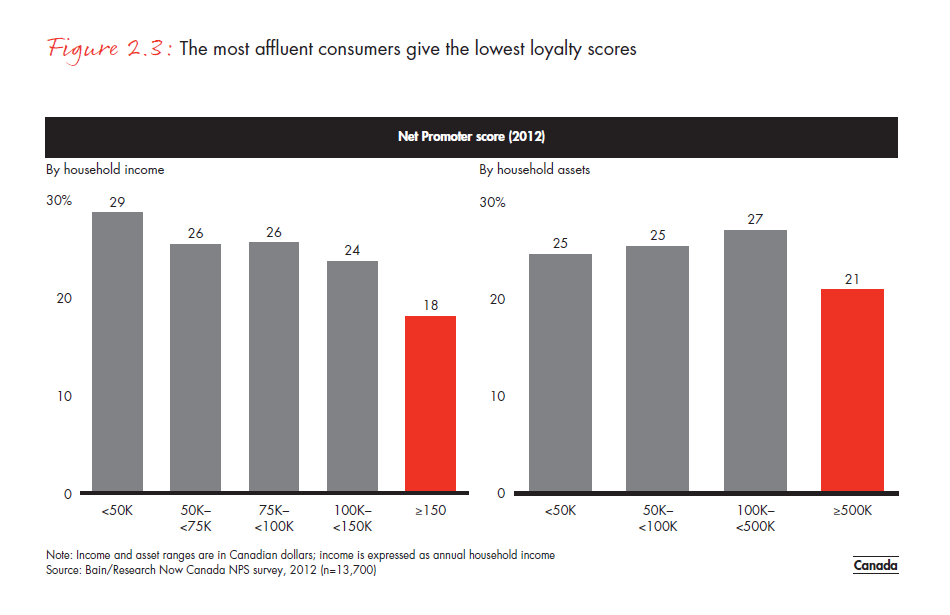 Full report | Country profiles:
Americas:  Canada | Mexico | US  Europe: France | Germany | Spain | UK 
Asia-Pacific: Australia | China | Hong Kong | India | Singapore | South Korea | Thailand
---
A note about loyalty scores worldwide
As banks review their Net Promoter scores, those with high scores may be tempted to compare across markets and declare themselves "best national bank" or "best credit union" globally. But that would be misleading. Click here to learn more.