Kundenbeispiel
A bank and a grocer build a fruitful alliance
Auf einen Blick
14 months of negotiation and alliance development
Die ganze Geschichte
The Situation
PacificBank* was positioned to win a bid for an alliance with a major grocer - but needed advice on how to structure and achieve a winning deal.
PacificBank, a major retail bank, was one of 14 financial institutions to receive an RFP (request for proposal) from GroceryKing*, a leading grocery retailer.
The terms of the RFP gave a significant advantage to players prepared to compete on price and share a high percentage of the revenue created.
International comparisons revealed that alliances between retailers and banks were generally successful and usually took one of two forms:
Large retailers forming product-supplier type alliances with out-of-market banks
Large banks forming multiple relationships with small retail chains to enhance the distribution footprint
An initial assessment indicated that PacificBank was unlikely to win with a bid that conformed closely to GroceryKing's initial specifications.
PacificBank asked Bain to help it develop an alliance strategy and a negotiation process that would win the bid, and make sure that PacificBank profited from the arrangement.
Our Approach
Bain laid the groundwork to negotiate the alliance and developed detailed scenarios outlining various implementation options.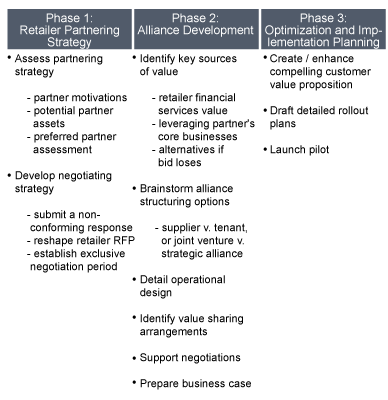 Our Recommendations
Bain recommended structuring the alliance so that the strengths of the two parts were combined into an unbeatable value proposition.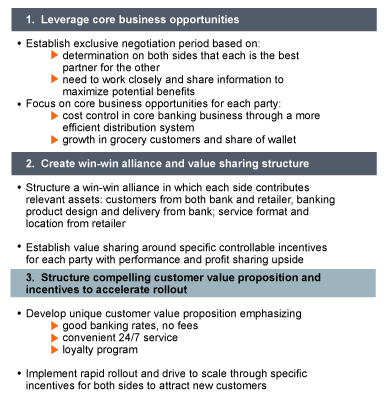 The Results
Acting on Bain's recommendations, PacificBank and GroceryKing:
Conducted initial discussions that led to a 14-month exclusive period of negotiation and alliance development.
Developed a deep, positive working relationship.
Launched new retail banks in grocery stores; rollout has occured in three major regional markets and will continue across the country.
Formed an alliance that has been acclaimed by analysts and the press.
Have experienced very strong customer acquisition rates.
Are considering ways to further leverage the alliance.
* We take our clients' confidentiality seriously. While we've changed their names, the results are real.